1. Fallen Star (California)

When it comes to public art, few schools do it as well as the University of California, San Diego. Maybe I'm biased because I went there, but UCSD's Stuart Collection, which dots the entire campus, is seriously top-notch. The latest addition is "Fallen Star" by South Korean artist Do Ho Suh. And yes, it's a house hanging off the edge of a seven-story building.
"Fallen Star" took a team of engineers and other experts several years to plan and construct. Suh based the look of the fully furnished house on the architecture he saw in New England. It's even beautifully landscaped. Though the up-tilted floor and seemingly precipitous overhang might deter the faint of heart, it's totally safe.
2. Private Temple over residential block (China)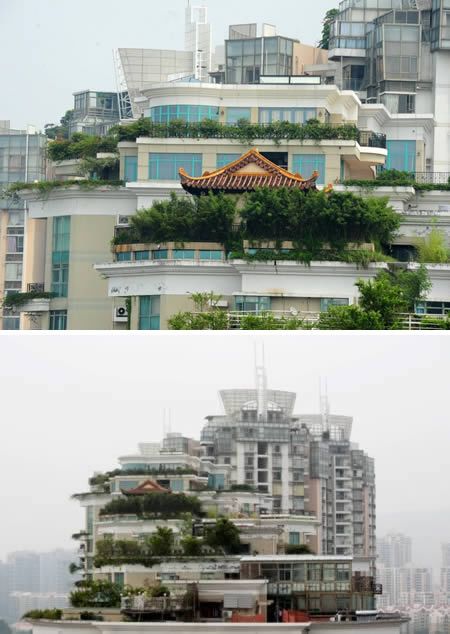 A privately-built illegal temple-like structure is seen on the top of a 20-storey residential block in the southern Chinese city of Shenzhen August 22, 2013. A police spokesman said that the elaborate temple-like structure is built illegally on the roof. The temple on top of the building in Shenzhen's Nanshan district is believed to have been there for at least three years, local media reported. The temple and the inaccessible rooftop had caused concerns over safety issues among some residents. But despite complaints from neighbours, the temple only came into the spotlight after a wealthy physician in Beijing was given 15 days to tear down his illegal villa and garden built atop a 26-story apartment block.
3. Mountain Villa on building rooftop (China)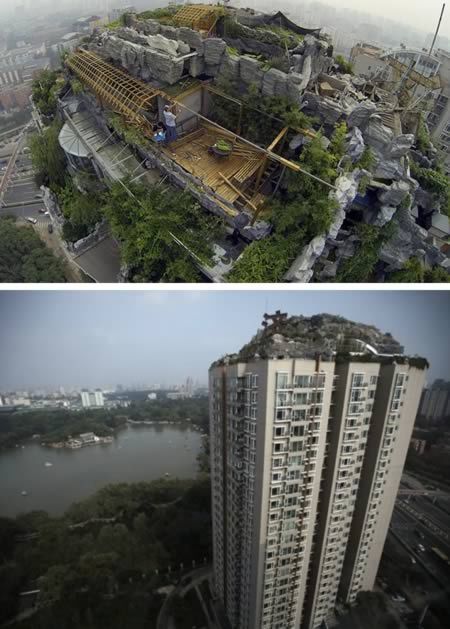 Zhang Biqing, a successful Chinese businessman from Beijing, has spent the last six years building a realistic-looking two-story mountain villa atop a high apartment building right in China's capital city. Zhang Biqing, a former government adviser turned successful entrepreneur, thought when he decided to build his dream mountain villa at the top of a 26-floor apartment building in Beijing's upscale Park View estate.
But yhe faux-rock villa complete with trees, patios and karaoke studio will soon be torn down after a demolition order was issued by the city's urban-management department.
During the six years it took to complete, residents complained about the infernal construction noise, but after seeing the enormity of the complex covering the entire top of their building, they began to worry about structural damage. The mountain in which Biqing's villa appears to be carved may be fake, but the materials used to make it are reportedly pretty heavy as well, and threaten to weaken the residential building's resistance. It turns out the whole rooftop project is illegal, as Zhang never received the necessary planning permission for his extreme dwelling, yet no one ever bothered him about it until Chinese newspapers recently covered the topic sparking public outrage.
4. Rooftop soccer at Shibuya Station (Japan)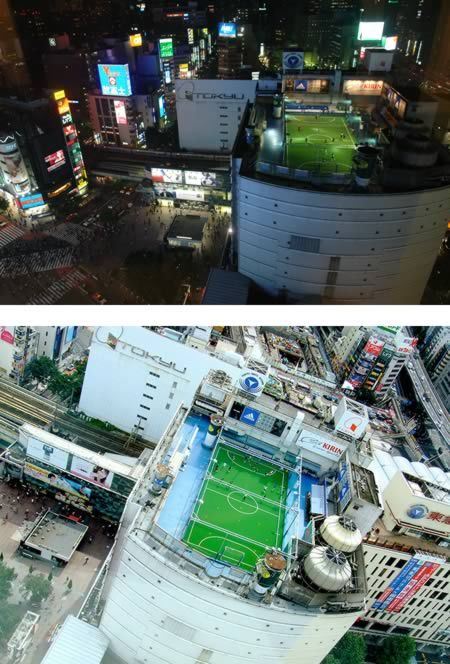 More than just a destination or a name on the map, each neighborhood in Tokyo functions almost like a self-contain miniature city, with its own business district, shopping arcade, and residential quarter. And generally, huddled in the center of all the hustling and bustling activities is a transportation hub, like Shibuya Station. Exist as part of the Tokyu Department Store, it boasts 8 rail and metro lines, including 3 privately operated railways, the N'EX express train to Narita Airport and a newly built terminal station from famed architect Tadao Ando.
Just beyond the maddening horde and the human scramble, however, is a quieter, joyful existent. High above the Shibuya Station, or more accurately right above it, is the adidas FUTSAL PARK.
Constructed in 2001 as an introduction to 2002 FIFA World Cup (hosted by Japan and South Korea), the adidas FUTSAL PARK promotes a miniature version of soccer, futsal, on a 14,000 square-foot pitch and commands a breathtaking 270-degree view of Shibuya. Inspired by a former playground on site before the construction of the transportation complex, the FUTSAL PARK hosts nightly tournaments among adults, professional game viewing venues, and J-Frontage, futsal school for toddlers and children. It' s almost a marvel of urban planning, to maximize usage of spaces not generally associated with activities such as futsal.
5. Rooftop 'Villas' on top of Shopping Mall (China)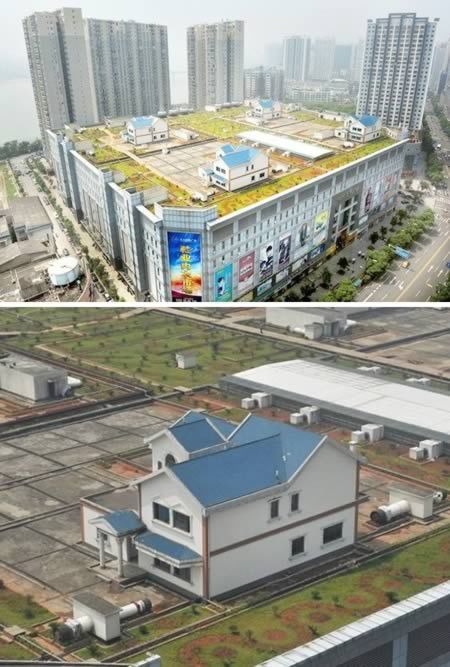 Can't find enough space in the big city to build yet another office tower? Here's an idea: Build a complex on top of a shopping mall. That was the answer for the developers of Jiutian International Square, an eight-story shopping mall in the Chinese city of Zhuzhou. They built four villas — complete with gardens — on the roof of the shopping mall. But instead of looking for four rich families seeking single-family homes in the middle of the city, they plan to use the mansions to house the mall's 160 real-estate management employees.
Unlike the previous constructions in this list, the villas have proper permits, were built to code and already have electricity and water installed. The employees housed there will get panoramic views and the chance to work in one of the most original office buildings in the city.
6. Rooftop Lake (England)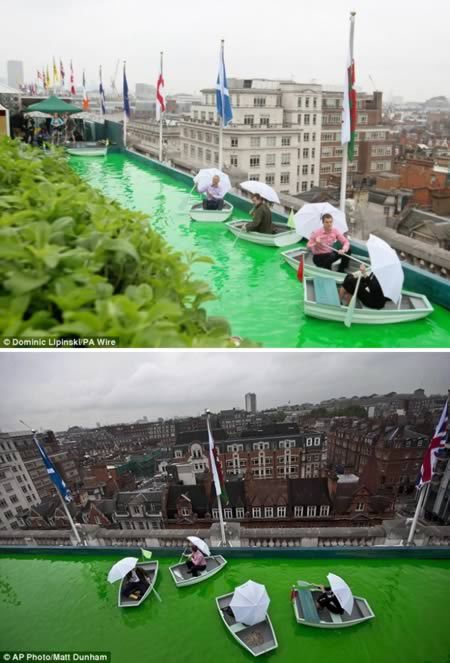 This lake on the Selfridges roof garden opened for the first time since World War II. The lake is located in London and dyed green and serves cocktails. In order to give the Selfridges a boating license, there were miles of steel used to reinforce the roof so that it would hold the lake.
After the devastating bombing of the department store in 1940 owner H.Gordon Selfridge vowed never to open the gardens again. In the 1920s and 1930s the roof, with its spectacular views across London, was a place popular for strolling after a shopping trip and was often used for fashion shows.
7. Runaway on top of Manhattan building (New York)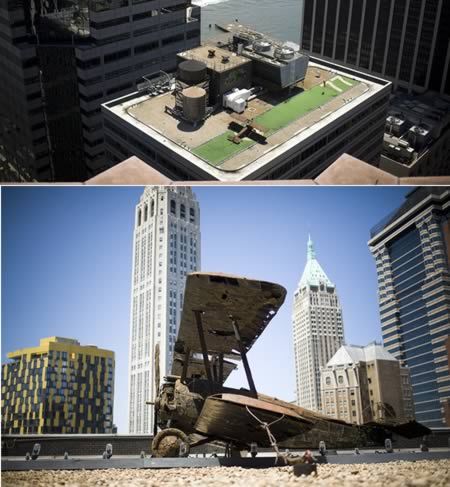 A helicopter landing on a New York rooftop is a common enough site, but why is there a WWI-era warplane perched on a tiny rooftop runway in Lower Manhattan?
Rooftops on large buildings are typically overcrowded with functional necessities like water tanks and air-conditioning equipment, so when the William Kaufman Organization built an office tower at 77 Water Street back in 1970, they perched atop it something a little more whimsical and aesthetically pleasing.
Onlookers in other buildings higher than the 26-story office tower are distracted from the necessary machinery by a runway with functioning lights, on top of which is perched a bi-plane.
The result is magical, even if the plane itself is merely a non-functioning replica of the original.
8. Didden Village on the roof of private residence (Netherlands)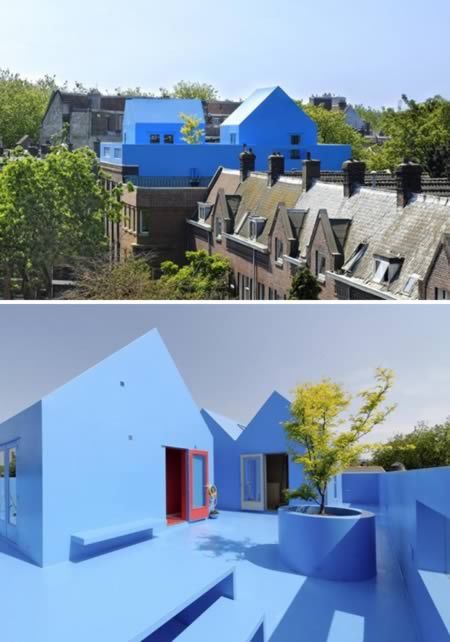 Most topping up on rooftops is done for two reasons: a need for additional space and the desire to live or work high above the city rooftops, closer to heaven than to other people. Dutch architecture firm designed an extension for the Didden family on top of an existing monumental house and atelier. The attic storey of the house below is extended by a sky-blue parapet. Behind it two gables of the same colour can be seen. It creates a crown on top of the monument. The extension is an example of the growing trend to exploit the urban roofscape for new living and working spaces.
Unlike many similar projects, the Didden Village does not simply offer its owners additional living and sleeping space. It actually functions like a real small village, with alleys and courtyards equipped with benches, tables and a pool. Shoulder high parapets create the necessary air of privacy.
9. Houses on top of a factory (China)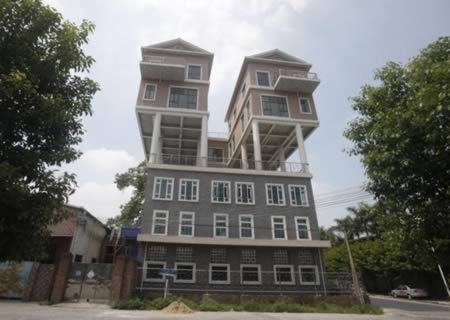 These houses are seen on the rooftop of a factory building in Dongguan, Guangdong province. They were completed in 2011. According to local media, the government said the size of the houses was not in line with the original design submitted, thus the construction should be deemed illegal.
10. Upside-Down House on top of Slovakia Headquarters (Slovakia)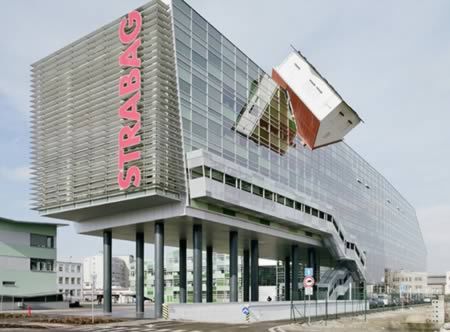 The Slovakia-based headquarters of Strabag is an energy-efficient building – with an upside down house smashed into its side! The European construction company hired artist Erwin Wurm to add his signature work "House Attack" to the outside of their building. Designed by MHM Architects, SKC Bratislava is modern office building that takes advantage of geothermal heating and cooling and is filled with art. The horizontal tower is clad in green low-e glass and it provides office space for 530 people in Slovakia's capital, Bratislava.