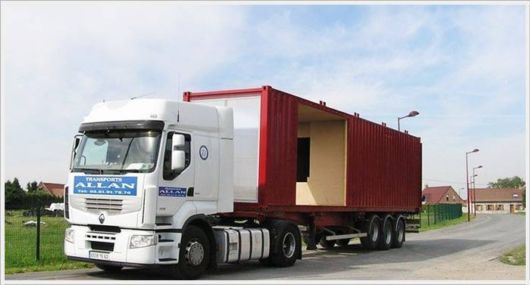 Older containers are increasingly being used to build houses
French architect Patrick Partouche has completed construction of single family homes, using the eight containers. This project was built in the town of Lille, France. The house has turned out a very comfortable and spacious, the total area of 208 square meters of dwelling. meters. From the huge windows offer magnificent views of the rural field. Original shutters, walls can turn the house into an impregnable fortress. In the case of leaving the owners, their refuge is fully protected. However, the owners of the house using these designs only to protect the interior from the sun.
All construction is based on reinforced concrete foundation. The assembly of the structure took exactly 3 days. Containers, which are commonly used for shipping goods delivered to site on special trucks to the platforms. And on the ground have only put all the pieces with the help of a crane.
All guests of the French miracle, like most bay windows. Despite the fact that the house has a large glass facades, it is quite warm. The exterior of the dwelling is fully consistent with local traditions, but the interior – the result of the desire of customers.