Atlantis may not be the only city in the ocean after architecture firm AT Design Office gets its newest blueprint approved. This innovative city plan was commissioned by the China Communications Construction Company (CCCC) as a possible eco-friendly city expansion alternative to continuing on land. With the amount of pollution, deforestation, and other detrimental environmental impacts that are a part of our current city development system, the Floating City was created as an attempt to minimize our carbon footprint for a sustainable future.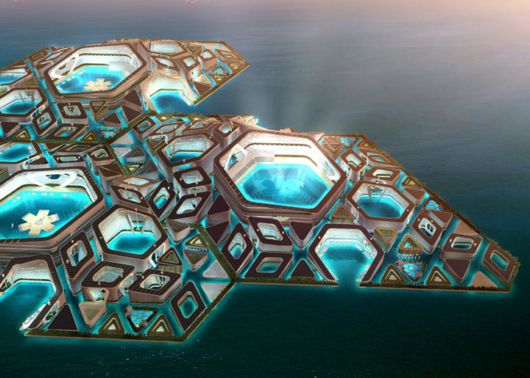 The Floating City plan is modeled after a current project that CCCC is working on. They are in the process of building a bridge that will link Macau, Hong Kong, and Zhuhai. AT Design Office will use pre-existing technology and elements of the bridge construction plan in their Floating City. AT Design Office's proposal is to create concrete molds and casts of the necessary hexagonal building blocks that will be floated out to the project site.
The Floating City will have an above ground layer and an underwater layer. There are two designated areas for greenery and gardens, plus a network of walkways and tunnels that will allow people to traverse the city. AT Design Office is opting for electric cars to reduce pollution and they have ports for submarines to dock. They also have a series of canals and waterways that will allow boats to operate as a means of transportation. The city will have a farm, a hatchery, and a waste disposal center in order to be entirely self-sufficient. AT Design Office has plans for a hotel and an entertainment hub that will appeal to residents and visitors alike. The city's link to the outside world will be an enormous cruise dock that will facilitate travel and tourism. If this plan becomes a reality, then floating cities may very well be the wave of the future.