In the 15th century, during the age of gunpowder when the cannon came to dominate the battlefield, a new style of fortification evolved in Europe. Roughly resembling the shape of a star, these fortifications had many triangular bastions, specifically designed to cover each other, and a wide ditch. In order to counteract the cannon balls, defensive walls were made lower and thicker and were protected by gently sloping banks of earth called glacis in front of ditches so that the walls were almost totally hidden from horizontal artillery fire. The new fortification became so popular that the design was swiftly adopted by other nations as far as India and Japan.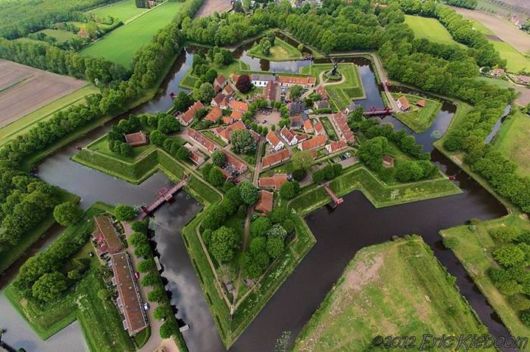 Fort Bourtange is such a star fort located in the village of Bourtange, Groningen, Netherlands. It was built in 1593 under the orders of William the I of Orange, to control the only road between Germany and the city of Groningen, which was controlled by the Spaniards during the time of the Eighty Years' War.
During the Eighty Years' War, the Spaniards had control over Groningen and the road leading from there to Germany. William, the leader of the Netherlands, saw it necessary to break off communications between Groningen and Germany. He decided that it would be optimal to build a fortification on the Bourtange passage, which was the main road leading to Germany. The fort was completed in 1593 in the design of a star with a network of canals and lakes which were used as moats. At its heart was a central square with streets that led directly to various bastions within the protective moat. At the very year of its completion, Spanish forces tried to besiege it but the attack ended in failure.