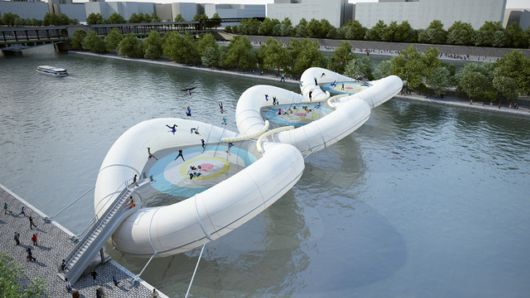 This bridge really rocks. A goddamn trampoline bridge! It may result in some broken necks and legs but screw it, that's the price you pay for having a way to cross the river Seine jumping like Spider-Man.
It's a design by Atelier Zündel Cristea for a Paris bridge competition, which would be built near the existing Bir-Hakeim Bridge. Their words:
The competition brief, A Bridge in Paris, allows us to locate an architectural reflection within this same realm of contemporary urban enjoyment. It appears to us that Paris has the bridges and passages necessary for the flow of vehicular and pedestrian traffic across its waterways. Our intention is to invite its visitors and inhabitants to engage on a newer and more playful path across this same water.
In other words: "HERE'S FREAKING TRAMPOLINE BRIDGE, PEOPLE!"
It's made with "inflatable modules, like giant life-preservers, 30 meters in diameter" and filled with "3700 cubic meters of air." Each of them have a trampoline mesh In the central part of each ring, a trampoline mesh is stretched. Oh, and they got stairs and slides on both sides. They should build these everywhere in the world. Heck, they should build one across the Atlantic.