Talking about the land mark of Brazil, the mind click comes to " Christ the Redeemer Statue towering over the Rio. The second largest building which is the national pride of the country, a grand stayed bridge Octavio Frias Oliveria, named after a popular local newspaper publisher who influenced to a large extent on the whole social life of Sao Paulo, which actually is a magnificent bridge.
Amazing and unsurpassed design, that we can say, a delicious combination of engineering solution with high aesthetic qualities that make this building so impressive that the fame of the beauty sold worldwide. The quaintness of the bridge structure in that it substantially rests only on the X-shaped monolithic concrete base with running from it to the roadway steel shrouds, the of which pieces. The height of the pillars are 138 meters and stretched cables, illuminated by special LED bridge added visual lightness and weightlessness. It is the only bridge in the world that has two curved tracks supported by a single concrete mast. The two curved tracks, one at an elevation of 12 meters and the other at an elevation of 24 meters, have approximate lengths of 900 meters each. Due to this effect, the construction seems to be hovering over the water of the river Pinheiros and automobiles highways passing underneath. Apart from it utilitarian purpose of unloading vehicle traffic, the bridge to the city skyline a touch of uniqueness and originality, effectively becoming its principal symbol.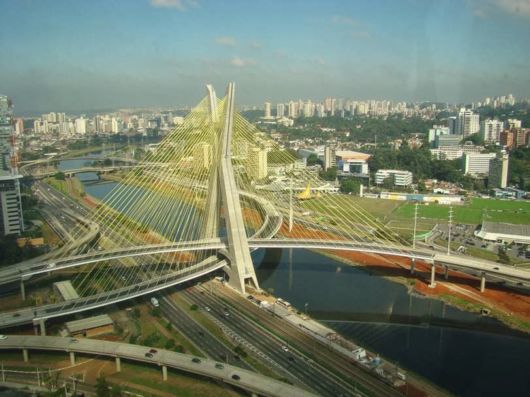 The Octavio Frias de Oliveira bridge is a cable-stayed bridge in São Paulo, Brazil.