Go from one floor to another with style. From a floating staircase to glass staircases, meet some of the coolest interior staircases ever.
1. Realisation Staircase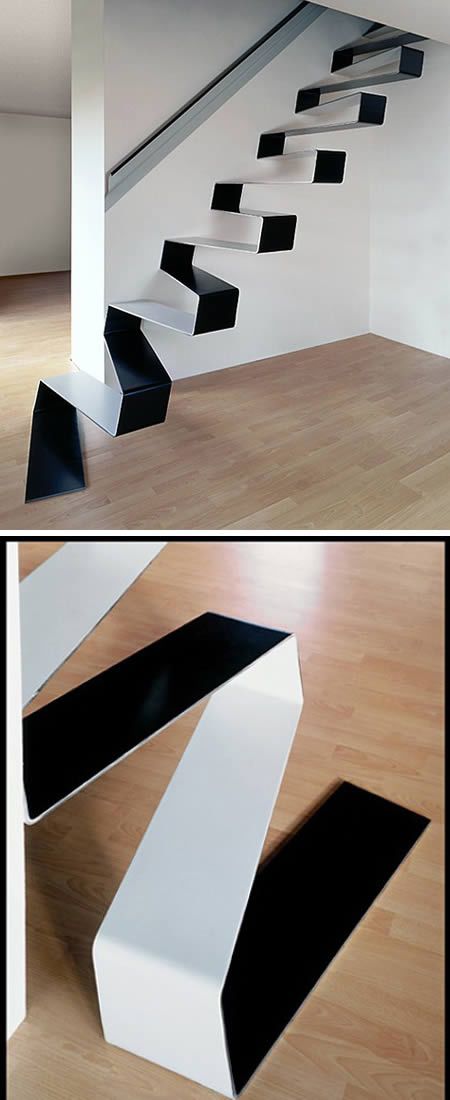 This modern staircase was made from a 10mm thick metal sheet. Each of the adjoining steps is connected with a slanting external side beam that forms a bracket attached to the wall. With a concept of a delicate rippling ribbon is definitely one of the most unique and thinnest staircases ever seen. It was created by HSH and it is now in one the contemporary houses in Liben, Prague. Although this original piece might look fragile, each of its brackets is constructed as a firm frame, so it is sturdy enough to carry weights.
2. Slide Staircase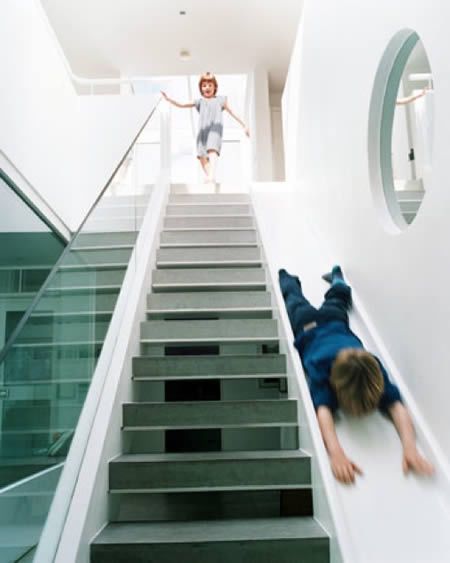 This creative slide next to the staircase was designed by London architect Alex Michaelis at the request of his children. Not only it adds originality but a lot of fun to their new eco-friendly dream home. In the picture, one of the children throwing caution to the wind and diving head first down the slide. According to Michaelis even grown-ups can't resist skipping the stairs. "We've been known after a big dinner party to use the slide", he said. Creativity, originality and fun, what a perfect combination!
3. Suspended Staircase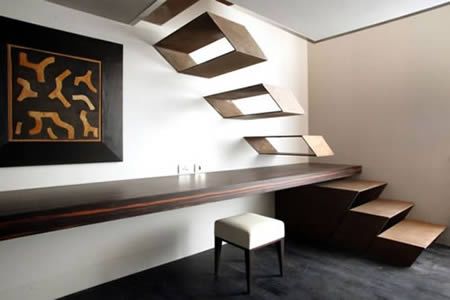 Now, that is an awesome staircase! These original "floating" stairs were designed by Florence architect Guido Ciompi for The Gray Hotel in Milan, Italy.Thumbs up for the designer!
4. Samlot Staircase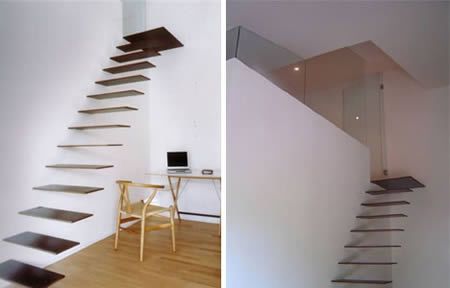 From the looks of these stairs, created by Spanish designer Jordi Vayreda, you might think only cats could make it to the top. They certainly don't look like they'd support the weight of a human. But, Vayreda confirms that they can support 200 kilograms (over 440 pounds). "Steel is the material which we use to construct the staircases, 100 mm thick and each of them is welded to a 250 mm thick beam."
5. Glass Staircase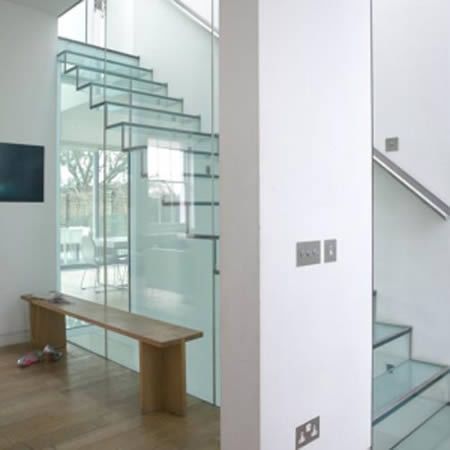 Check out these glass staircases. Forget about scuff marks and smudges, these are so cool!
6. Staircase at XXS House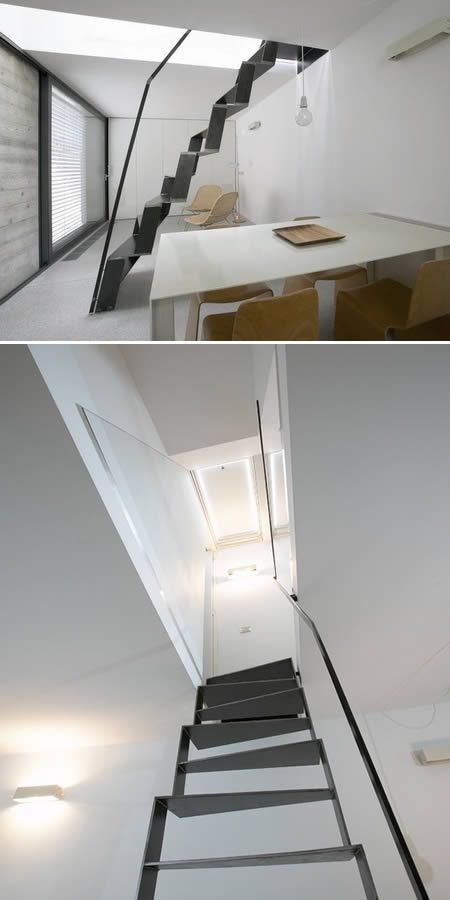 What is so special about this staircase? Well, the design required remarkably little material and still functions as a regular set of stairs. It was created by Architect Dekleva Gregoric's for an eXtra-eXtra-Small house located in a little historic town in Slovenia. Its dimensions were dictated by law to fall within the measurements of the preexisting house on the site, leaving just 43m-sq (approx 460ft-sq) of potential space. If good things come in small packages, then the XXS house is as good as it gets!
7. Bookshelf Staircase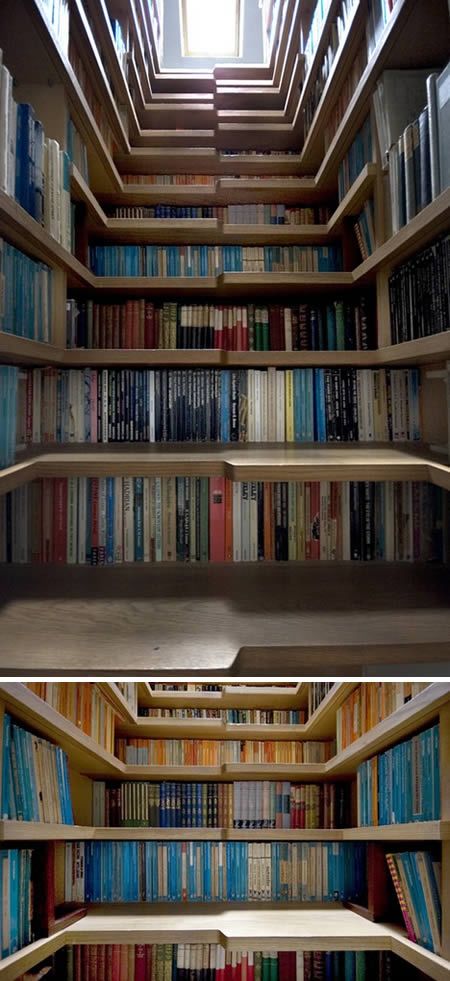 This "secret' staircase" belongs to a London Victorian apartment, where it is hidden from the main reception room, to access a new loft bedroom lit by roof lights. It was designed by Tom Sloan at Levitate Architects, who came up with a neat solution to a storage problem.
8. Floating Staircase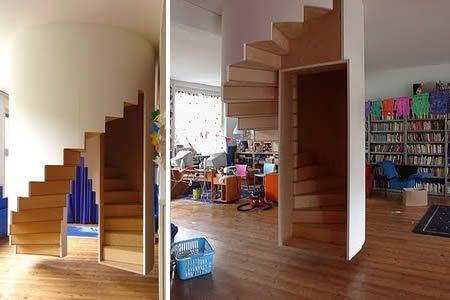 Those two amazing sets of stairs are from the Didden Village project by Dutch architectural firm MVRDV. The project itself is a rooftop addition in Rotterdam, Netherlands.
9. Space-saving Staircase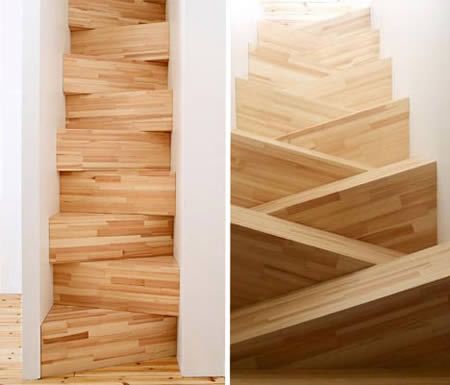 These steep and narrow stairs occupy a space hardly bigger than a closet, and were made of economical pine boxes. When designing it, creative Swedish architects at Stockholm-based TAF Architect Office, went for both an aesthetically pleasing and affordable creation.
10. Rolling Staircase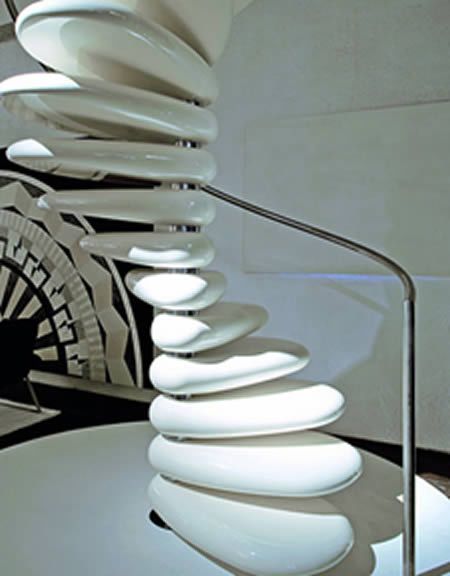 This spiral staircase appears to lead to nowhere as it was installed as a part of Milan's exposition aimed to show that decor objects can be artworks.The 'Rolling', designed by Roberto Semprini for Edilco, draws inspiration from the ergonomic forms of natural rocks smoothed by water. The stairs look like giant river stones, but they are actually concrete blocks polished to perfection.
11. Hanging Staircase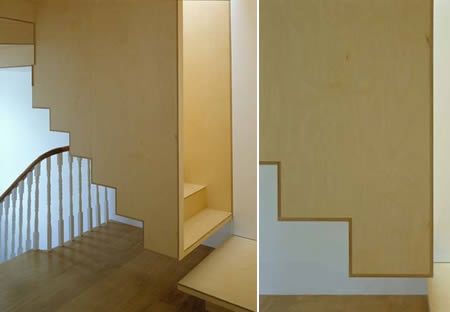 Take a look at these treads that don't even touch. Anglo-Canadian architects Christopher Blencowe and Judith Levine seem to have taken the phrase "tread lightly" literally with this design. This really looks like an interesting solution to a standard problem in renovations and additions. Doesn't it?
12. Foldable Staircase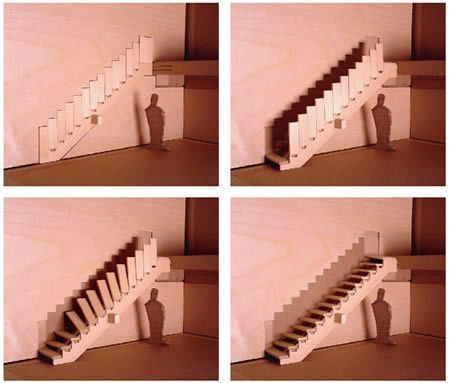 This originality was thought not only as a foldable staircase but as a 'redefined door'. According to its creator, industrial designer Aaron Tang, it is "an element of a wall that allowed passageway to another environment when opened and restricted passageway when closed". Using just hinges and pistons, the staircase can fold up a wall to expand space on the lower level or restrict access to the upper level. It was designed to be closed or opened from upstairs and downstairs.