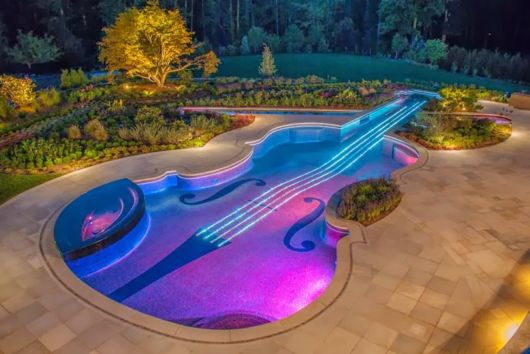 The people at Cipriano Landscape Design created this violin swimming pool for a client in Bedford, New York who is an amateur violin player and collector.
Cipriano Landscape Design & Custom Swimming Pools delivered a great project that simply surprise you. Not only with the shape – bridge, strings, tailpiece, and chin rest of the violin included in the build – but with its state of the art features. The high level of labyrinth can be found as well as in the design, but also in the modern technology the entire pool offers.
Designed in the shape of a Stradivarius Violin, this violin swimming pool is made of steel and stone and features an underwater audio system, two koi ponds and a 12 person spa. The four violin "strings" of the Stradivarius pool contain 5760 strands of fiber optic lighting that help enhance the violin design at night. The project not only pertained to the pool itself but the surrounding landscape as well.
Though not a violin player or swimmer myself, it's easy to appreciate the amount of hard work and clever design that went into make such an exceptionally crafted violin pool.