1. World's Smallest Aquarium
This is the world's smallest working aquarium, which holds just two tea spoons of water. The miniature wonder, which is made of glass and measures just 30 mm. wide by 24 mm. high and 14 mm. deep, can be held in the palm of your hand. It is so small there is only room for these tiny zebra fish.
2. Dance floor Aquarium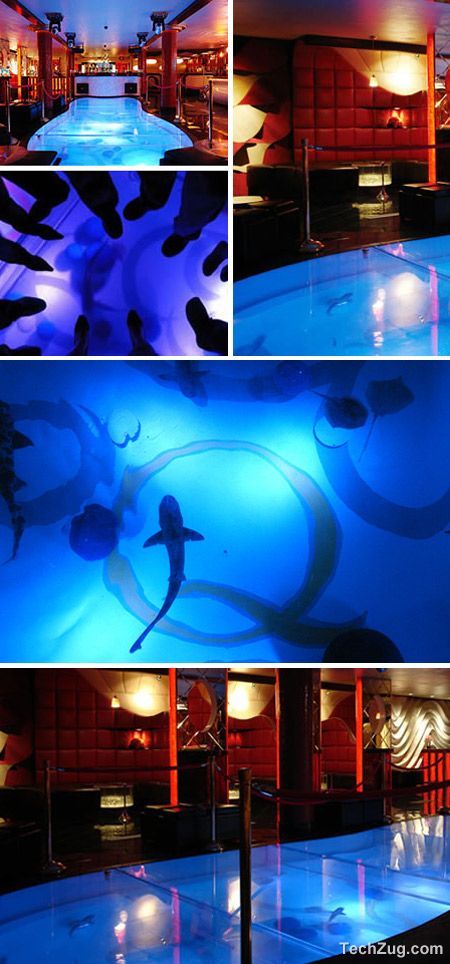 There are many bars around the world that are built around an aquarium, but not so many where the dance floor is a giant fish tank. In Austin, Texas, this cocktail lounge is called QUA Bottle Lounge. The dance floor is filled with sharks.
3. iMac Aquariums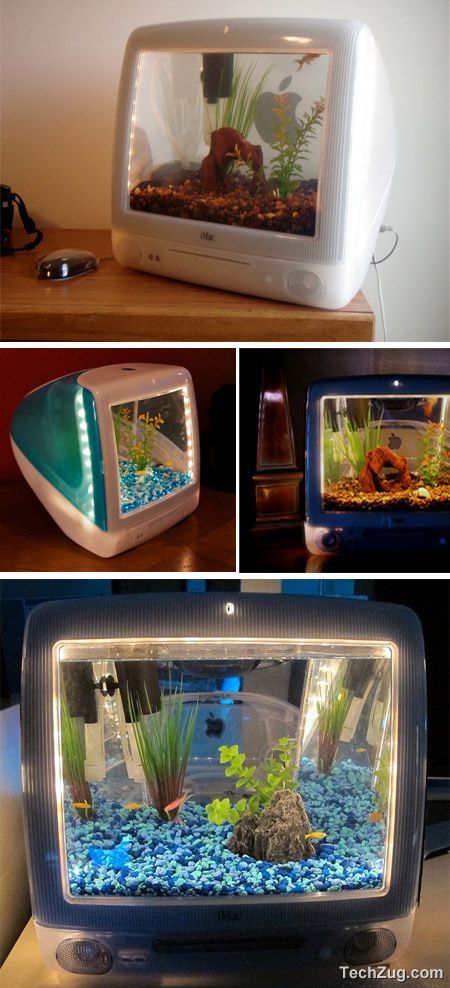 MacAquariums and iMacquariums are created for Apple fans around the world. Jake Harms transforms old Apple computers into eye-catching aquariums. Recycled iMac cases are fitted with custom designed fish tanks, bright lights, and high quality filters in place of the screen.
Each Macquarium is ready to use right out of the box. Simply decorate it however you wish and add water and fish! It makes an original and eye catching home or office conversation piece.
4. World Trip Aquarium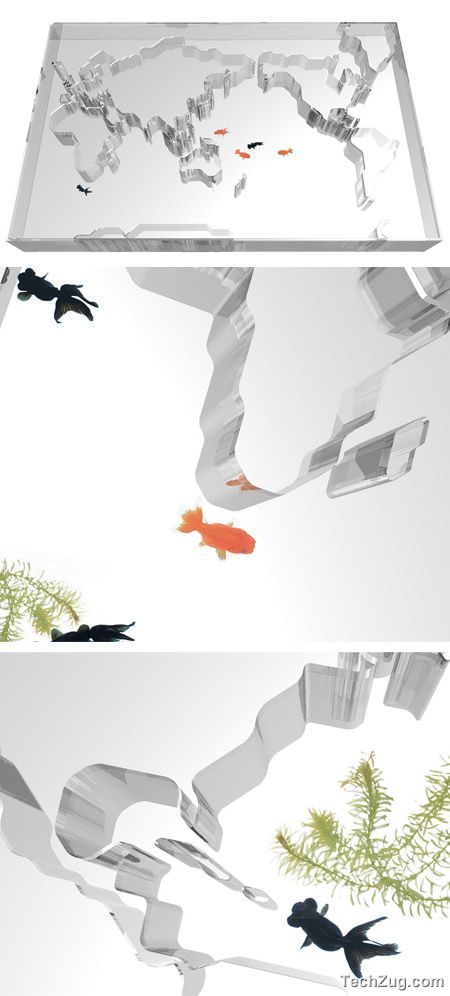 "World Trip is a glass goldfish basin which has the shape of the world map. You can enjoy a world wide trip and adventure with goldfishes." (Designer: Takuro Yamamoto)
5. Labyrinth Aquarium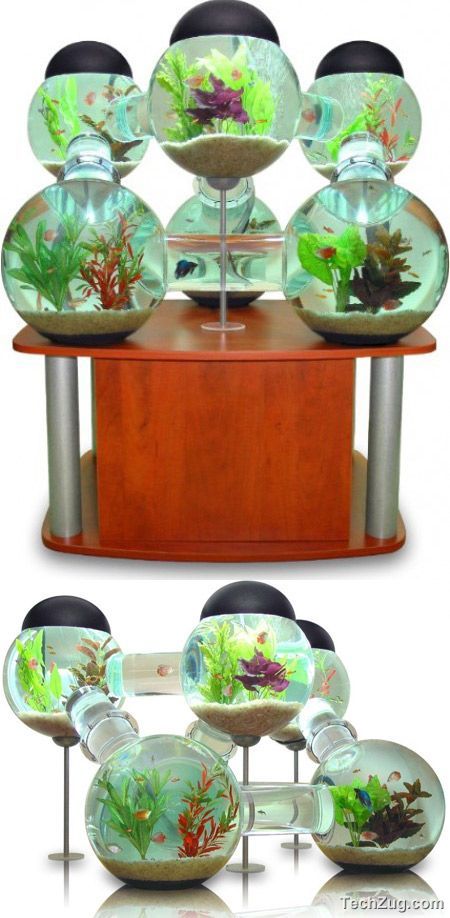 The Labyrinth Aquarium is the gerbil cage of aquariums. It is, without a doubt, very cool. However, with a price tag of $6,500, it seems as if it should come with a person to clean this opulent aquarium. Just the same, it's pretty neat to look at the fish swimming freely throughout the entire fish tank.
6. Aquarium Bed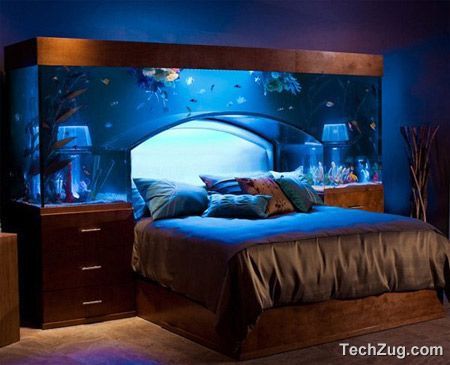 The aquarium bed is one of the most extravagant headboards on the face of the planet and probably comes pretty close to resembling where the mighty Poseidon slumbers. The bed is made from top quality materials and offers an unparalleled view of the enormous 650 gallon aquarium and its diverse marine life. Simply put, the aquarium bed raises the bar for all other home aquariums.
7. Bus Stop Aquarium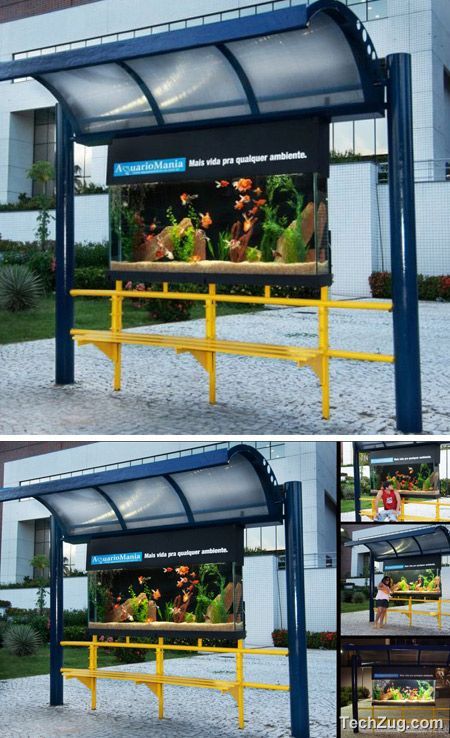 Wouldn't it be nice, while waiting for the bus, to have an aquarium full of fish to look at? At least for those first few days, until they die, at which point it'd get depressing. This bus stop is a real design coming out of Brazil, dubbed "AqurioMania."
Such marketing strategies may prove too expensive to deploy real aquariums on a large scale, but they definitely give a cool, lively look to the place we visit more than once everyday.
8. Frozen Aquarium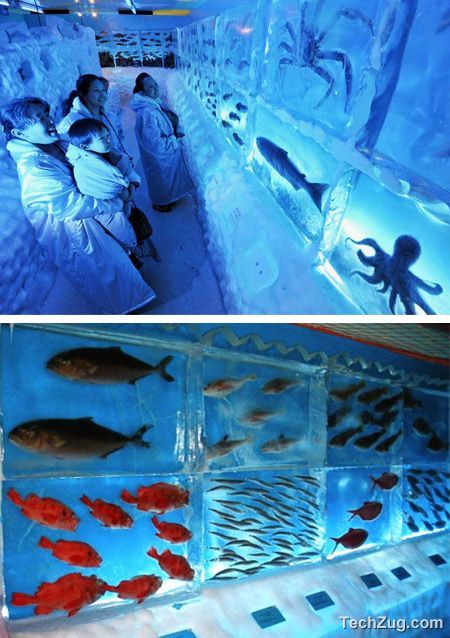 This is a very cool aquarium. So cool, in fact, that it's frozen! This crazy tourist attraction is a frozen aquarium located at Kesennnuma Port in northern Japan.
Octopus, crab and other fish are flash frozen and displayed in large, clear blocks of ice. Aquarium-goers can observe over 450 marine specimens contained in about 50 ice cubes at the aquarium, where room temperature is kept at a very chilly negative 20 degrees Celsius.
9. Pipeline Fish Tank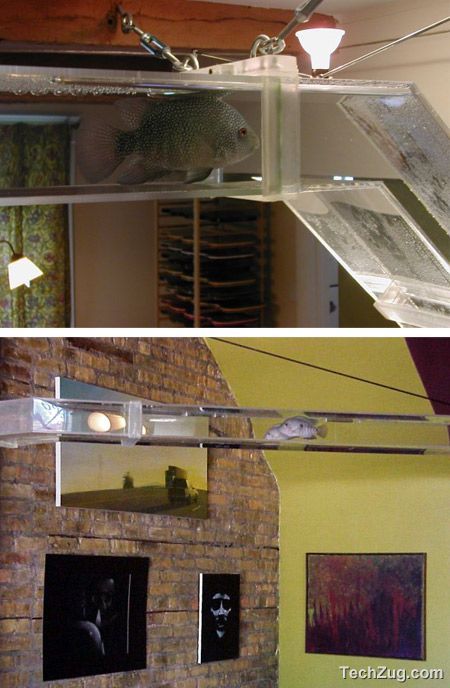 This is a guy who is truly a fan of fish and aquariums. He made this awesome pipeline fish tank which is all over this cafe. You can take a seat, relax and watch fish swim in those pipes. It is very unusual but you must give him a mark for creativity. Fish can move from one aquarium to another because of those pipelines which connect them.
10. Coffee Table Aquarium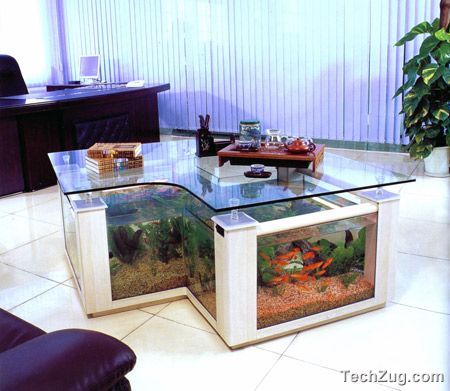 Now, not only can you stand and watch the fish and aqua-scapes of your aquarium , but you can also lay down and enjoy them from your sofa, relaxing away the tension and pressure from work with this creative coffee table aquarium.
11. Nike Aquarium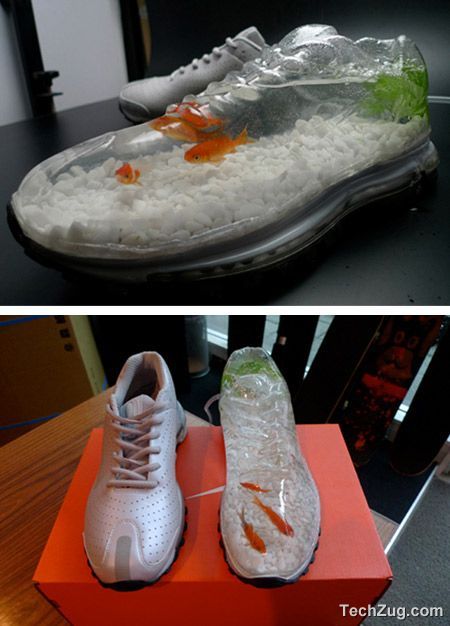 The W+K Tokyo Lab is known for their out-of-the-box thinking and progressive campaigns, so it comes as no surprise that they reworked the classic Nike sneaker into a fish tank. Complete with three gold fish and a faux tree, the shoes feature a fully visible water unit sole and were crafted for the Nike 78 project. The Nike 78 project set out to pay respect to the Swoosh Company by crafting their sneaker models into other works of art as a nod to Nike's innovation.
12. Bathroom Sink Aquarium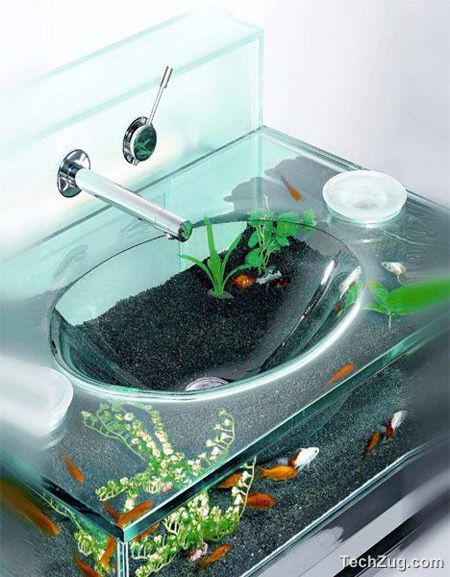 There is something calming about watching tropical fish swimming, and the tank is a great focal piece. You usually see the tank in living and family rooms, but what about the bathroom? Intalbrass' Moody Aquarium Sink will liven up boring routines like washing hands and brushing teeth.