Tell us something honestly. Do you use the same password on multiple websites on the internet? You are not alone. Most of us use very weak passwords because creating strong, unique passwords for multiple websites, apps, and social media accounts we access every day can be confusing and difficult. But by doing so, you are only making it easier for nefarious elements to compromise all your accounts. And then again, it isn't possible to remember a random, unique password for every website we use. So, what's the solution?
What is a password manager and why you need to use it?
These days, most of us simply must take advantage of a good password manager. These programs are made to store your login information for all the websites you use and help you log into them automatically. With a strong password manager's help, you won't have to memorize all your passwords anymore. You will only need to remember the master password that unlocks your password vault.
This master password encrypts the contents of your password database to make it easier for you to keep all your passwords secured in one place. Moreover, a password manager auto-generates highly secure passwords for you whenever you create a new account with a website or app.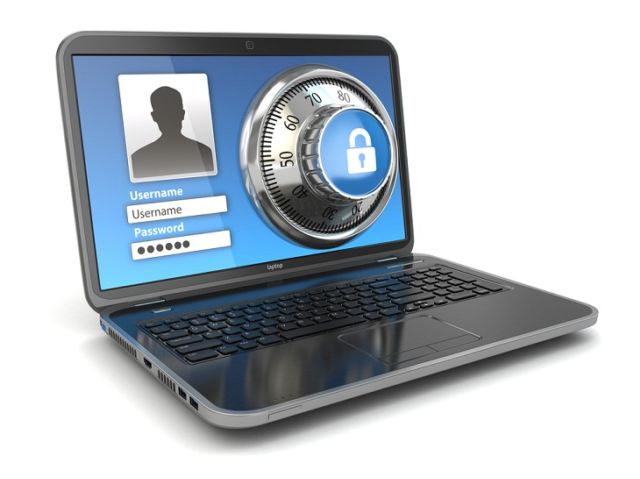 There is a variety of password managers available for you to purchase along with several free ones. However, don't go online and download a free one without verifying its credentials first because some free password managers are designed specifically as spyware to steal all of your passwords. Here, we have listed some of the best free password managers that you can use to get started. These password managers are trustworthy, and they offer powerful password security, friendly user interfaces, and many handy features. Take a look.
1. LastPass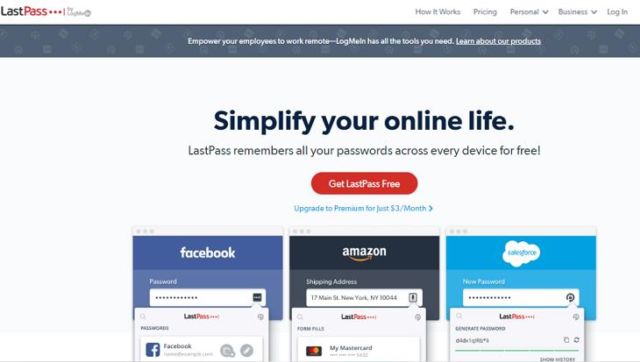 LastPass is rated by many several industry experts as the best password manager. It's an easy-to-use software that offers unlimited password storage on multiple devices. While the free version of the program – LastPass Free – makes you choose between syncing passwords across either desktop (and Windows tablets) or mobile devices – it still has plenty of great features you will find beneficial.
Some of its best features include auto-filling, a password generator, one-to-one sharing, secure notes, a password strength report, and support for multifactor authentication. Furthermore, its Security Challenge feature regularly checks all your passwords and gives you notifications on which are the weak and repeated ones.
Then there's the Built-in authenticator that generates secure one-time passwords for all of your online two-factor authentication-enabled logins. (For the uninitiated, two-factor authentication happens when you need to both provide a password and prove your identity in some other way to gain access. While there are many authenticator apps out there today, they require you to provide a time-based one-time password in addition to your master password.
With Last Pass's Built-in authenticator, you can keep your passwords and two-factor authentications in one place, instead of having to log in to an authenticator app every single time you access a two-factor authentication-enabled login.
Get LastPass free here. You can also download its app for Android and iOS.
2. NordPass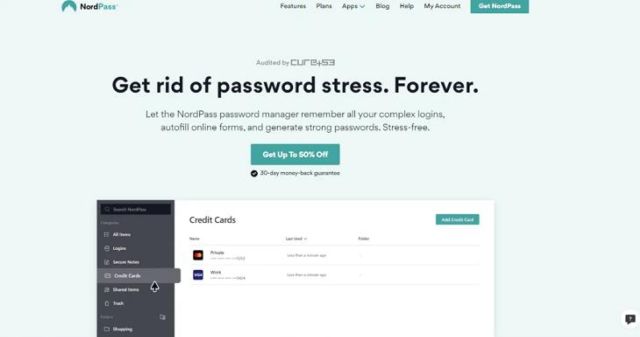 NordPass is a reliable all-around password manager that will work well for most people. NordPass Free enables unlimited password storage on multiple devices and supports app-based two-factor authentication. Its interface is quite attractive and is very easy to use and understand.
NordPass safeguards your passwords with the same encryption that Google uses to keep their data protected. It also includes biometric authentication, allowing users to log into your password vault using just their fingerprint.
One drawback of the program, however, is that you can only log into NordPass Free on one device at a time. That can be annoying for some users who like to multitask. Furthermore, it also doesn't have the auto-filled form option for adding personal details. That being said, the benefits of the free version of the software far outweigh its drawbacks. NordPass is one of the easiest password managers to set up and use, and people with basic needs will be satisfied with it.
Get NordPass free here. You can also download its app for Android and iOS.
3. Bitwarden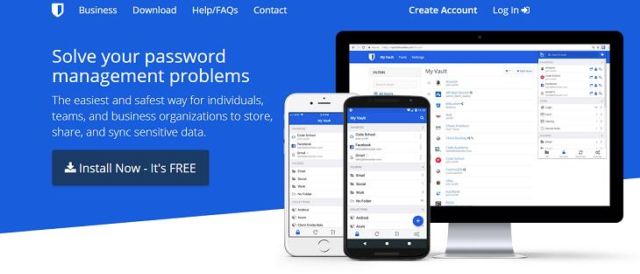 Bitwarden is one of the most highly-rated free password managers out there today. It's secure, usable, and offers unlimited password storage across numerous popular platforms and browsers. While it's not as user-friendly as some of the other famous password managers, Bitwarden offers many neat features with its free version. Apart from the basic password management, the software provides multi-device sync, optional self-hosting, and unlimited online storage. Bitwarden's auto-fill and password recall are pretty good, too.
Another helpful feature of the program is that it allows you to import passwords from any other password manager through its online portal. Just go to the Bitwarden website, click 'Help' and then 'Go To Web Vault'. From there, you can import passwords exported from more than 30 password managers.
Bitwarden is a great choice for people looking for a free and capable password manager. In fact, it's packed with so many useful features that it can give many paid password manager software a run for their money.
Get Bitwarden free here. You can also download its app for Android and iOS.