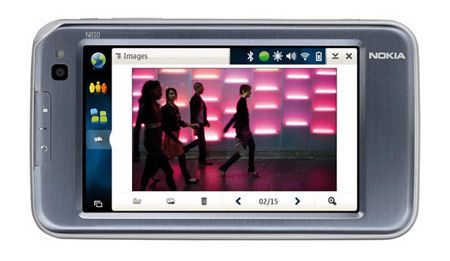 Here's the Nokia new internet phone N810 successor to N800. It has a 4.3-inch widescreen display, 2GB of internal memory, TI OMAP 2420 processor, 128MB RAM, 256MB Flash, miniSD/microSD card slot, and a QWERTY keypad. The Nokia N810 will hit stores on the November with a price tag of $479.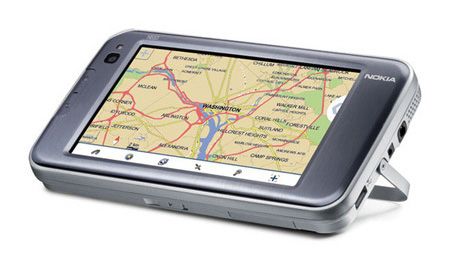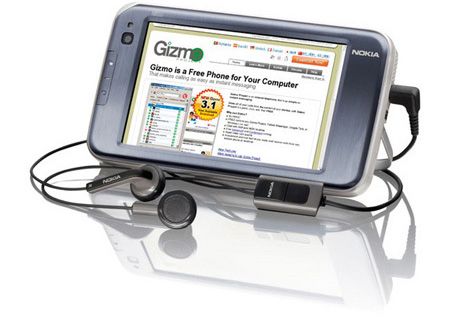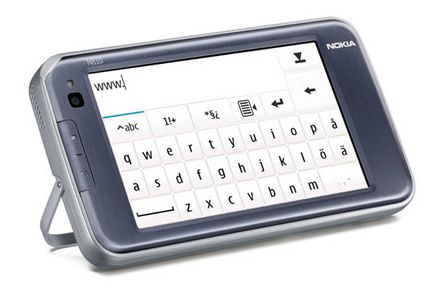 General
Operating Frequency
Volume: 128 cc
Weight: 226 g
Length: 72 mm
Width: 128 mm
Thickness: 14 mm
Display
High-resolution 4.13″ WVGA display (800 x 480 pixels) with up to 65,000 colors
Processor
Memory
DDR RAM 128MB
Flash 256MB
Storage
Up to 2GB internal memory
Support for compatible miniSD and microSD memory cards (with extender). Supports cards up to 8GB. (SD cards over 2GB must be SDHC compatible.)
Operating times*
Battery: Nokia Maps BP-4L
Continuous usage (display on, wireless LAN active): up to 4 hours
Music playback: up to 10 hours
Always online time: up to 5 days
Standby time: up to 14 days
 
Operating times may vary depending on the radio access technology used, configuration and usage. The availability of the product and its features depend on your area and service providers, so please contact them and your Nokia dealer for further information.
Other characteristics
Smooth slide with integrated QWERTY keyboard
Built-in GPS receiver
High quality stereo speakers and sensitive microphone
High-resolution widescreen display
Integrated desk stand
Integrated VGA web camera
HW key to lock touch screen and keys
Ambient light sensor
Connectivity
WLAN standard: IEEE 802.11b/g
Bluetooth specification v. 2.0. +EDR
Profiles supported: HID, FTP, DUN, GAP, SPP, HSP, SAP and OPP
USB 2.0 high speed
3.5 mm stereo headphone plug (Nokia AV Connector)
Language support
HW keyboard variants: English, German, French, Italian, Spanish-Portuguese, Scandinavian and Russian
User interface languages: British English, French, German, Italian, Spanish, American English, Brazilian Portuguese, Canadian French, Latin American Spanish, Danish, Swedish, Finnish, Russian, Dutch, Norwegian, Portuguese
User guide languages: British English, French, German, Italian, Spanish, American English, Brazilian Portuguese, Canadian French, Latin American Spanish, Danish, Swedish, Finnish, Russian, Dutch, Norwegian, Portuguese, Arabic