These are the top ten most exciting upcoming smartphones in 2014! From phones with eye scanning sensors to curved ones, this is a must see list!
1. Samsung Galaxy S5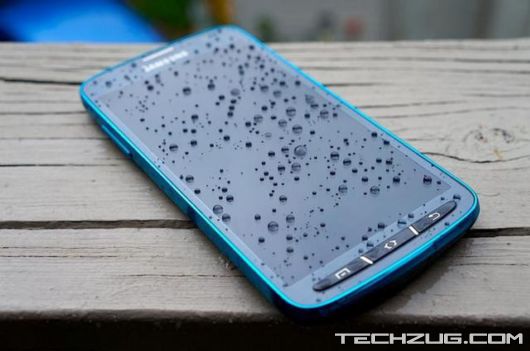 Samsung's next flagship promises to take smartphoning to new heights with its new-age features. Believed to be powered by a 64-bit processor, it is said to house an architecture of 16 cores and a RAM of 3/4 GB. Other rumoured goodies on the phone include a 32 multitouch screen, a water proof casing, wireless charging and an eye scanning sensor.
Samsung is expected to finally do away with its plasticy form factor and give the Galaxy S5 a carbon fiber or an aluminum casing. Powered by Android's latest operating system, the flagship is speculated to be equipped with a 16-megapixel primary camera, complete with OIS. and also other goodies like 1080p hd video, bluetooth 4.0, and also 4g LTE.
2. Apple iPhone 6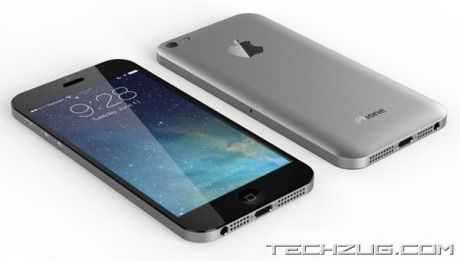 Apple is rumoured to unveil its next iPhone earlier than usual next year. If all those leaks are to be believed, the iPhone 6 might release as early as May of 2014. Leaving its 64-bit processor and its Touch ID unchanged, Apple is expected to give its new handset a bigger screen and possibly even a curved display, along with a larger RAM. Storage options are said to remain the same on the new flagship model with inbuilt flash, rumoured to be 32gb/64gb and the likes, which will of course carry the next iOS build out of the box.
Like the Galaxy S5, gaze detection technology on the iPhone 6 is believed to make the handset more power efficient than before. Rumour has it that Apple may finally go in for a Full HD display on its next flagship, as well as up its cores to four and its camera to a 12 or a 13-megapixel one.
3. Intex Aqua Octa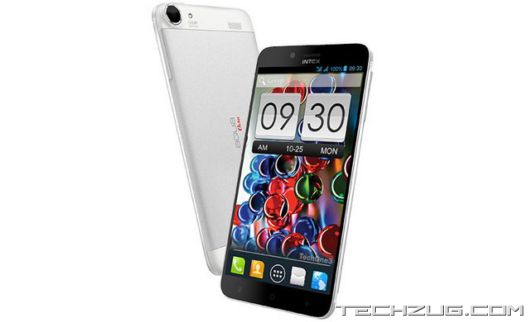 The Indian handset manufacturer Intex kicked off the new year with a blast by launching the world's first true octa-core chip that allows all 8 cores to be active at the same time without proxies as we have had earlier. The smartphone which combines the power of Android 4.2.2 OS, 1.7GHz MT6592 chipset along with a 2GB RAM promises to deliver a strong performance giving stiff competition to its rivals. Intex Aqua Octa comes equipped with a 6-inch screen with a resolution of 720 x 1280 pixels along with a 13-megapixel rear camera and a 5-megapixel front facing camera.
On the memory front, the device harbors a 16 GB internal memory with scope of further expansion using a microSD card slot. Packed with a host of connectivity options (including 3G) and a solid 2300 mAh battery, the device is being offered online for Rs 19,999 – along with a free Intex Power Bank 3000mAh
4. Lenovo Vibe Z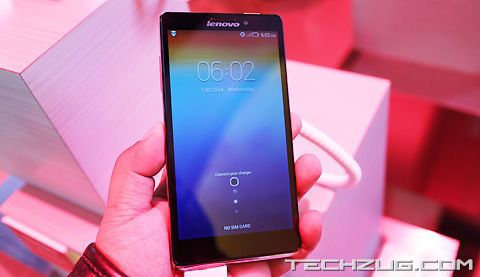 Intex is not the only company setting the tone for the coming year. Lenovo fans also have a lot to cheer about with the company unveiling its first LTE smartphone for the international market.
Dubbed as the Lenovo Vibe Z, the stylish and sturdy handset comes with a 5.5-inch screen with a 1920×1080 pixel IPS display. Driven by the powerful 2.2GHZ Qualcomm Snapdragon 800 processor, a chique Android 4.3 OS and a 2GB of RAM, the device promises to deliver nothing short of an impressive performance. Toping it all is the LTE support, custom software, 16GB of internal storage, 13-megapixel rear camera with f1.8 aperture, 5-megapixel front camera, super camera, super gallery apps and a lot more goodies.
The device is likely to arrive in India in the first quarter of this year with a price tag of approximately Rs 35,000
5. Moto G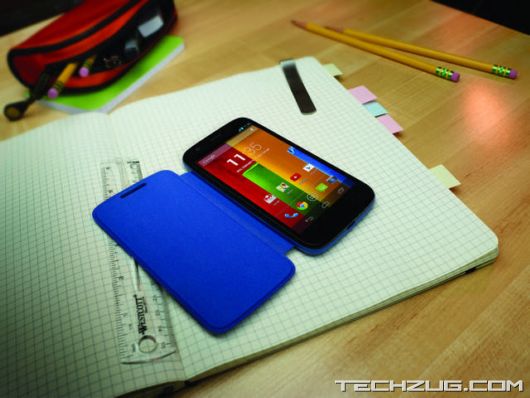 Get ready to say hello Moto! after a long while, the Google owned company is set to enter the Indian market space once again after a long hiatus with its most anticipated and highly customizable offering – Moto G. Slated to be introduced in early-January, the Android smartphone has garnered rave reviews from techies across the globe owing to its impressive spec list and more so its budget friendly price tag – approximately Rs 14,000 for the 8GB and 6,000 extra for the 16GB version.
We might see the company introduce a dual SIM variant which is popular in the country for a slightly higher pricing. Featuring a 4.5-inch 720p HD display, this Android powerhouse packs along a 1.2GHz quad-core Snapdragon 400 processor and Android 4.4 Kitkat OS. Also included are a host of other perks which include a 1GB of RAM, 50GB of free Google Drive storage, a 5-megapixel rear camera, 1.3-megapixel front camera, Wi-Fi b/g/n, GPS, Glonass, Bluetooth 4.0 and a 2070 mAh battery.
6. LG G Flex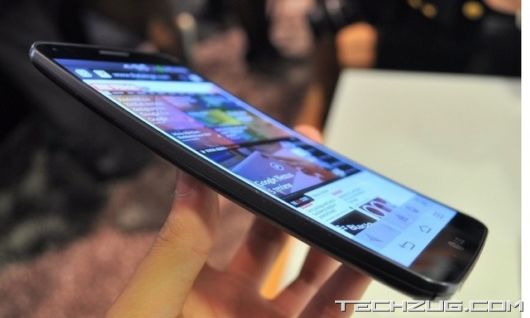 LG became the first entrant in the flexible display segment with its 6-inch curved smartphone – Flex. Yes, you read that right, a curved smartphone. The curved OLED panel present on the device utilizes the plastic substrates instead of glass to bring better durability. In addition it features Real RGB technology which assures better and more precise image quality.
Fueled by the Android 4.2.2 Jelly Bean, and quad-core 2.26GHz Snapdragon 800 processor, the device flaunts an Adreno 330 GPU for graphics and a 2GB of RAM to carry out multiple-tasks with ease. On the camera front, LG doesn't disappoint either with its 13-megapixel rear camera, and a 2.1-megapixel front-facing camera.
Weighing a mere 177 gms, Flex is backed by a powerful 3,500mAh battery, and a 'self-healing' coating which enables it to 'recover from the daily wear-and-tear scratches and nicks that un-cased smartphones are likely to receive.' It also carries on the rear keys which we saw in the 2013 flagship smartphone LG G2. Some new features like the QTheater for quick access to photos, videos and YouTube from the lock screen; Dual Window for multitasking with two windows; Swing Lockscreen and a three Rear Key LED indicators – Face Detection, Camera Timer and Urgent Call Alert are also introduced.
The device is slated to arrive in India by February this year with a price tag hovering anywhere between Rs 55,000-60,000.
7. Galaxy Round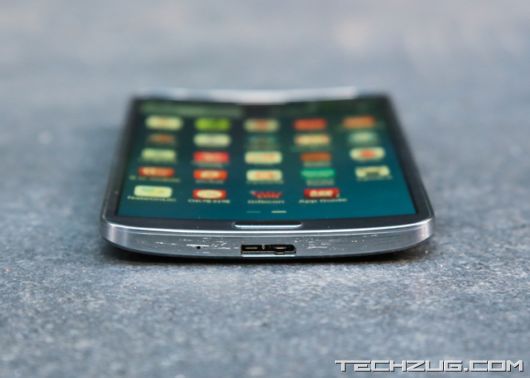 Competing in the latest tech trend of 'flexible display' with LG Flex is the rival Samsung Galaxy Round. With its impressive quad-core Snapdragon 800 2.3 GHz chipset and Android 4.3 OS, the second formidable player in the segment teams with a 13-megapixel primary camera and a 2-megapixel front camera to bring you an all-round, power packed performance.
The phone also boasts of NFC connectivity, 2800 mAh battery and 32 GB of internal memory that is expandable to another 64 GB.
8. Nokia Lumia 1320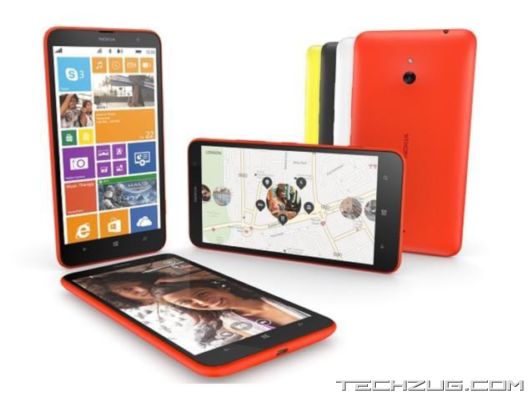 Nokia turned around its fortunes with the Asha range of series and impressed consumers equally with its innovative Windows powered Lumia range of smartphones. Building on the popularity, the company is now set to launch its massive 6-inch screen mid-ranger Lumia 1320.
Featuring Microsoft's revamped Windows Phone 8 Black operating system and fortified by Gorilla Glass 3, the device brings in stunning build quality like its siblings and oodles of personality with its orange, black, white and yellow removable back covers. The device not only has plenty of style but substance too. Powerful inners like a Qualcomm dual-core 1.7 GHz Snapdragon S4 chipset, Adreno 305 GPU and a 1 GB RAM take care of all the tasks at hand – be it surfing, browsing, playing graphic intensive games or watching HD movies and more.
The device also brings an onboard 8 GB internal memory which is expandable to 64 GB, 7GB of free SkyDrive, a 5-megapixel rear camera, a secondary front facing VGA camera and features like Nokia Mix Radio, location services from HERE, Nokia Camera app among others. A 3400 mAh battery powers the device which ships with Bluetooth 4.0, USB, WLAN and 4G network support. Expected to hit the shelves this month, this Nokia mid-ranger is expected to be priced at Rs 25,000.
9. Nokia Lumia 525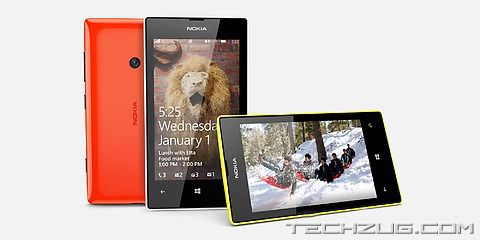 Another exciting budget offering from Nokia scheduled to hit retail stores this month is the Lumia 525. Taking on from its popular and best selling predecessor Lumia 520, the Lumia 525 carries on the same ergonomic design and impressive list of specifications with a enticing price tag.
Powered by the latest Nokia Lumia Black version of Windows Phone 8 OS, this trendy smartphone teams up 1GHz dual-core Qualcomm Snapdragon S4 processor with 1GB of RAM for seamless multitasking. The device offers plenty of storage options which includes 8GB of onboard storage which can be further expanded up to 64GB using a micro SD card and free 7GB of SkyDrive cloud storage.
The device also flaunts a 4-inch WVGA IPS LCD display with 480×800 pixel resolution and a 5-megapixel rear and a 1 MP front-facing camera with the new Nokia Smart Cam app. Connectivity needs are taken care of by 3G, Wi-Fi, GPS, Bluetooth with a 1,430 mAh battery assuring up to 10.6 hours of talk time and 14 days of standby time.
With the ability to run the latest apps like Instagram, Vine, and Halo: Spartan Assault, Lumia 525 is a good example of Nokia's ability to deliver a better smartphone experience at every price point.
10. Nokia Lumia 1820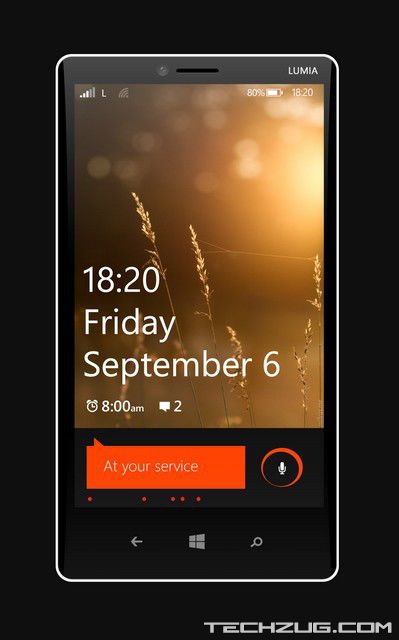 Nokia is rumoured to give its new imaging flagship a metal unibody design and a Lytro-style camera that allows users to change the focus after they have clicked a photograph. The Lumia 1820 is powered by the GDR-3 release Windows Phone 8.1 and is believed to come with Microsoft's Siri-like personal assistant Cortana built-in.
We expect to see a Full HD display and a powerful processor on the device as well with atleast 4 gigs of RAM and an internal storage of 32gb which will be expandable to 64gb. This smartphone is expected to release post March.
Join Our FunOnTheNet Community Mailing List, to receive selected fun E-Mails occasionally! We won't email you unless it is really interesting!