The world's first double screen smartphone has arrived! Yotaphone 2 comes with bigger, better displays wrapped in a much sleeker Style. The front of the new Android device features a conventional LCD screen but flip over to the back and you find yourself an E ink display. Full Android functionality on both screens.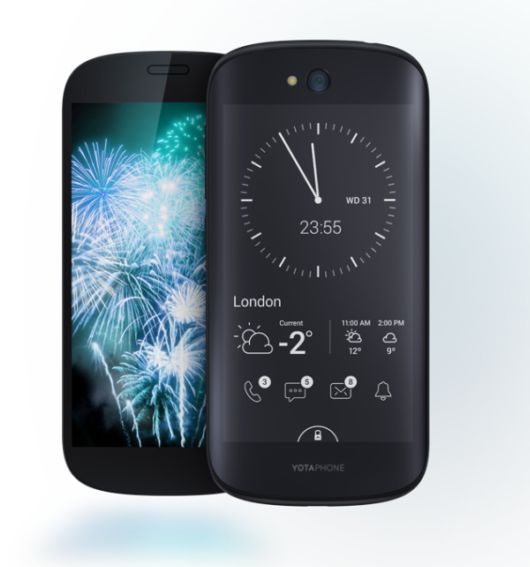 There's a great level of tech included in it, with a full HD 5-inch AMOLED display, 4.7-inch e-ink rear screen, 2.2GHz Snapdragon 800 processor, 2GB of RAM, 32GB internal storage, 2500 mAh Battery, 8MP rear camera and 2.1MP front snapper. The handset is just little taller than the Galaxy S5 (142mm) and weighs just 145gms. It has a Reading time up to 100 hours.
YOTAPHONE 2 has battery life not in hours but in days. Five days reading on a single charge. You can use the rear E ink display on the Yotaphone for tasks like texting, checking updates, important information and notifications without unlocking your phone. There's also YotaEnergy power saving mode, which extend battery life as much as possible. Yota claims that enabling YotaEnergy when you have 15% battery left will extend life by up to 8.5.
Android screens can be almost impossible to read in bright sunlight. YOTAPHONE's EPD screen is perfectly readable even in the brightest sunshine. You can also turn YOTAPHONE's EPD screen into your personalized picture. Yotaphone 2 carries a price tag of £555 (around $870, AU$1035).