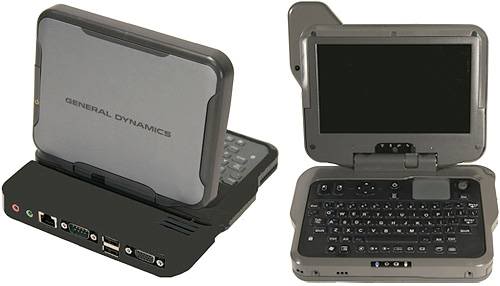 Forget what you've heard about those Panasonic Toughbooks or even what Lenovo claims their Thinkpads are capable of. If you need a laptop that will take a licking and keep on ticking processing you need to buy it from a company that also builds tanks. The just launched GoBook MR-1 from General Dynamics is about 1/4 the size of a regular laptop and is built to military specifications.
That means it's dust and rain resistant, is designed for all weather conditions and can even survive 26 drops from a height of 3 feet as per military standard 810F. After drop 27 you're going to have to try and convince General Dynamics tech support that the thing 'just stopped working for no reason.
Inside the MR-1?s small form factor (4.5 inches x 6.1 inches x 1.4 inches) you?ll find a 1.2 GHz Intel Core Solo U1400 processor, up to a 6 hour battery, 80GB solid state hard drive, 1 GB of ram as well as wifi, bluetooth and GPS. It also includes a touch screen with DynaVue technology making the display completely readable even in direct sunlight.
The GoBook MR-1 should be officially available sometime in September of this year starting around $4,500. And I assume it comes with a pretty good warranty too.