German company Mercedes has unveiled their new concept of self-driving car, called the F015 Luxury in Motion. It has wide wheels to maximize passenger space, seating for four, carriage style of doors and uses 'swivel chairs' that rotate 30 degrees. They revealed this new vehicle at Consumer Electronics Show (CES) 2015 in Las Vegas. It has six high-resolution touch-screens on the interior to control few features.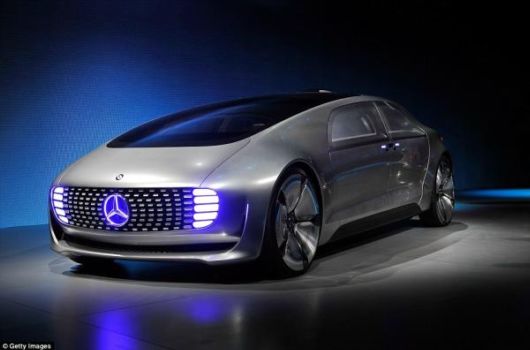 The posh sedan, which seats four persons, measures 17ft (5.2 metres) in length and 5ft (1.5 metres) high. It is made of carbon-fibre, aluminium and high-strength steel. It's designed to be equipped to make use of an electric motor and a hydrogen fuel cell. Using its hybrid system it can travel 685 miles (1,100 km) on a single charge. A single pane of glass covers the top of the sedan, extending from its long windshield to its sunroof.
The F015 has large 26-inch wheels which are positioned on the corner of the vehicle, to maximize the amount of space inside. Inside there are four pedestal seats, which rotate 30 degrees when the doors are opened and then move back to a straight position when the car moves. There are also six high-resolution touch-screens on the doors, which passengers can use to manipulate the car's features. They can be controlled using gestures, eye-tracking or touch. While the car is self-driving, it can project lights on to the road using its LED headlights to let pedestrians know when to cross. The car can also switch to manual mode. Mercedes haven't announced when the F015 can be on the hand or how much it will cost. But perhaps this provides a better idea of what self-driving cars of the future might look like.