The Polyes Q1 pen is the first 3D sketching printing pen with blue light and actual inks. Fast Light-curing Technology turns your imagination into reality! The safest, cool-ink 3D pen.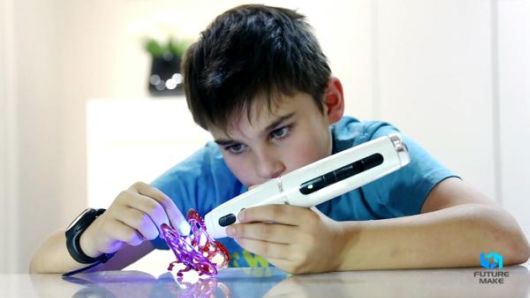 In contrast to other 3D pens, there are no hot materials, no melting plastics and thus no unpleasant odor. The pen has photo-polymers within, and it solidifies right away when exposed under the LED light. There's additionally a tilt sensor inside, and together with child-safety switch, it could prevent kids' eyes from being exposed to light. Additionally, there are built-in control buttons by moving the speed control key and the backwards to the line of the power indicator to make it more convenient. Since Polyes is all about being hands-on and inventive, we've managed to create several different types of inks, with more to come. Besides the different regular colors it includes the glow-in-the-dark, aromatic, transparent, and temperature-changing.
The Kickstarter destroyed its $50,000 goal in just a few days, and it has now broken $70,000 with 36 days to go. The $59 super early bird specials are gone, but you can still grab a pen for $69 on Kickstarter. This project will be funded in Kickstarter on Wed, Feb 4 2015.