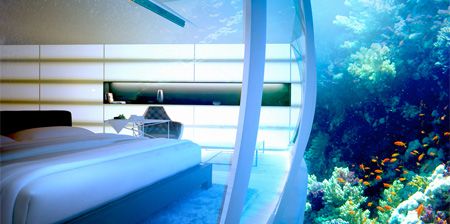 Innovative hotel with 21 underwater rooms will be constructed 33 feet (10 m) beneath the surface of the sea in Dubai.
Designed by DOT, unique hotel will consist of two UFO inspired buildings, one above water and one below. The guests will be able to admire the beauty of the ocean while making the most of the warm climate.
Water Discus luxury hotel will also have swimming pools, diving center, restaurant with delicious food, underwater bar, emergency air stations, underwater scooters, and submarines for deep-sea exploration.