A London designer has created plans for a futuristic Spine-shaped floating hotel with restaurants, cinemas and swimming pools on board and can drift across the ocean. Named the MORPHotel, the idea for the 'floatel' was designed by 32-year-old Londoner Gianluca Santosuosso would have an ever-changing view from their rooms while it's at sea.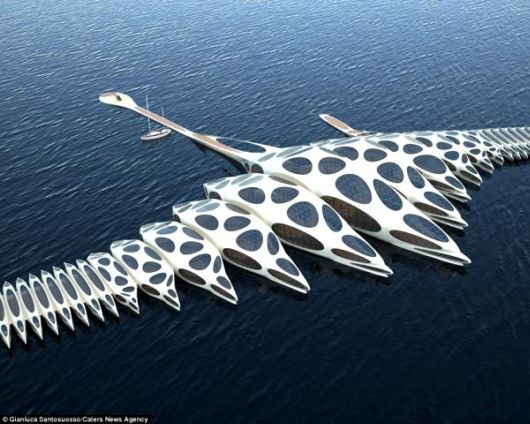 The luxurious floating paradise would be composed of capsules that houses spacious lobby, space for a swimming pool, garden, guest rooms, restaurants and the usual amenities that people can find on land. The floating hotel would have rooftop windows to allow for plenty of natural light, and a helipad so guests can fly in for their stay.
Each end of the half-mile spine has a boat that can detach from the structure and take guests for a ride in the surrounding waters. One of the primary features of the vessel is that it can become an extension of the cities it harbours in, allowing locals to access the theatres, restaurants and garden on board. Visitors would be able to enter the hotel through a 'barycentric dock' which would connect to the harbour city.
At night, the buoyant structure would look more like a spaceship while it is lit up against the moon and the night sky. The MORPHotel features solar panels, rainwater and wave energy harvesting, and floating vegetable garden and is completely self-sufficient. Thus this hotel would be an alternative to cruise ships and take guests to new and unknown places.