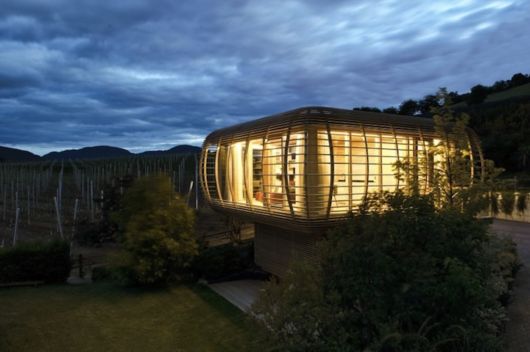 Designed by Berlin-based Studio Aisslinger, this incredibly attractive modular home was created almost 4,000 ft above sea level. Located near Bozen in Northern Italy, it features magnificent views of the Dolomite mountains, yet can be easily taken apart and rebuilt in a new location. This makes the structure perfect for the travelling nomad, all while leaving a minimal CO2 footprint.
Dubbed Fincube, the home is made entirely of local wood and the design is minimal, material-orientated and in close touch with nature. A 360-degree triple glazing is furnished with a second facade layer, giving the building a very elegant, yet modern shape.
The modular aspect of Fincube allows it to be embedded into a variety of landscapes including forests, meadows and mountainsides. The combination of long-lasting design and the option of changing its location make the Fincube a flexible home or hideaway, and a lifetime companion. To top it off, Fincube is a smart house, with all vital functions being controlled by a central touch panel.