Starwood Hotels and Resorts is looking to grow its Sheraton brand aggressively during 2013, with 30 planned openings, predominantly in the Asia Pacific region. —
Sheraton will open 15 new hotels across China over the next 12 months, including the striking Sheraton Huzhou Hot Spring Resort (pictured below), moving Starwood closer to its target of 80 properties in China by the end of 2015.
Expansion for the brand will also extend into Africa and The Middle East with the addition of four new hotels, including the Sheraton Medina Hotel in Saudi Arabia, Sheraton Dubai Mall of Emirates and the first in Tajikistan – Sheraton Dushanbe Hotel. Sheraton will also open two new hotels in Turkey, in the cities of Adana and Bursa.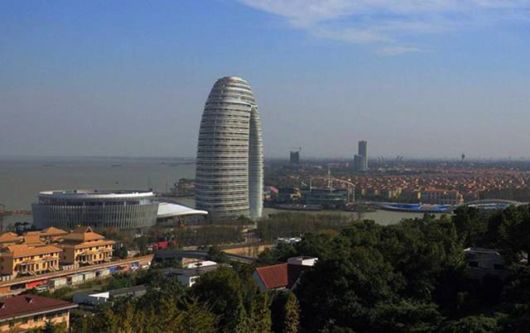 In Latin America Sheraton will open its ninth property in Argentina with the Sheraton Tucuman Hotel. There will also be two openings in Brazil as it ramps up preparations for the 2014 FIFA World Cup and 2016 Summer Olympics, with the Sheraton da Bahia Hotel in Salvador and Sheraton Reserva do Paiva Hotel and Convention Center, located 30 minutes from Recife, opening in early 2014.
Hoyt Harper, global brand leader for Sheraton Hotels and Resorts said, "Sheraton is anticipating record-breaking growth, putting us on track to open our 500th hotel in 2015. The majority of our new hotel development is taking place in the world's fast-growing economies, while in North America, Sheraton remains one of the most sought-after brands for conversion opportunities." Images © MAD architects/Sheraton Huzhou