Have you ever dreamed of spending a relaxing night at a luxury hotel? Or maybe planning a romantic evening or a honeymoon where you want to impress your beloved? What would you want included? A gorgeous view? A large comfy bed? A Jacuzzi? A personal butler?
Did you know that prices at the best hotel suites have gone up 10% this year? Are you ready to drop about $30,000 for one night? Would you be willg to spend that kind of money on a hotel room? And by the way, none of the nightly room rates includes tax so be prepared to add another 10 – 17% to your bill at checkout.
Here are the 10 most expensive hotel rooms in the world from the last year.
10. The Penthouse Suite, The Martinez Hotel, Cannes
Nightly Rate: $18,000
This is the biggest, most expensive, and the only terraced penthouse suite on the Cote d'Azur. Both of the two suites has a Jacuzzi, plasma screen televisions, DVD library, kitchen, open bar, private butler on call 24/7 (ditto for a limousine), and an option to join both suites into one big apartment. The luxury has no limit here – the design is kept in the Art Deco style, with streamlined furniture, silk curtains and teak parquet floors.
The wraparound terrace is 2,000 square feet with the views of the Lerins Islands as well as the entire Bay of Cannes and can comfortably hold 100 people. One Saudi sheik liked the suite so much he wanted to rent it for five years. The hotel said no. What else can you say? Tres magnifique!




9. Ritz-Carlton Suite, Ritz-Carlton Moscow
Nightly Rate: $18,200
The floor-to-ceiling windows in the Ritz-Carlton Suite will give you the most beautiful views of the Kremlin, Red Square, St. Basil?s Cathedral, and Christ the Savior Cathedral. The furnishings are in a Classic Russian Imperial style. The 2,500 square-foot suite comes with a spacious living room, dining area, library, office room and boardroom, grand piano, and heated floor.
You will get to enjoy five meals a day and their very own KGB-approved autonomous energy supply system and secure telecommunications array.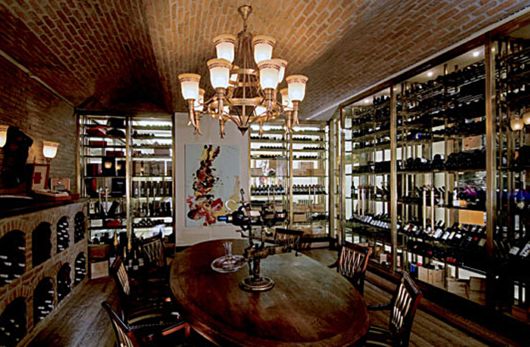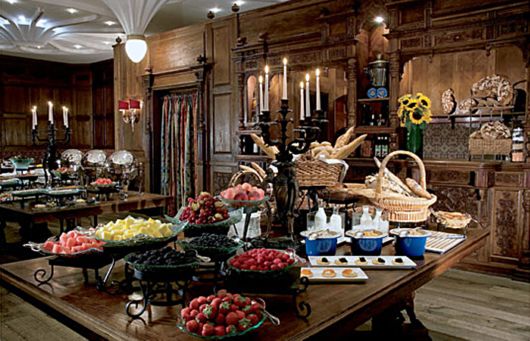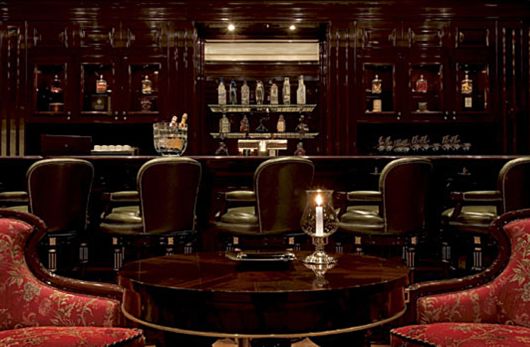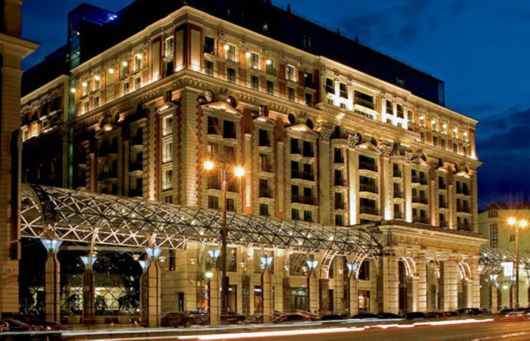 8. Royal Suite, Burj Al Arab, Dubai
Nightly Rate: $19,000
The two-story, 8,400-square- foot suite features views over the Arabian sea, marble flooring, a rotating four-poster bed in the master bedroom, dining area, and a private cinema and elevator between the split-level rooms.
The marble bath comes fully stocked with full-sized products from Hermes. Guests are met by a chauffeur driven Rolls-Royce Silver Seraph (or, for a bit extra, by a helicopter). A personal butler stands 24/7 at the ready to fulfill every wish. The Royal Suite is the last word in luxury with a marble and gold staircase, leopard print tufted carpets and Versace linens.
What you can also enjoy is a submarine ride to an underwater restaurant complete with shark-infested aquarium.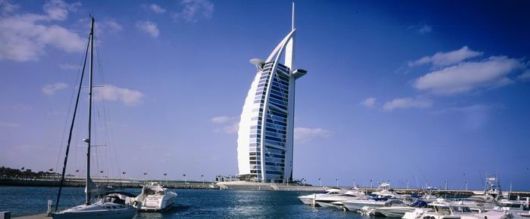 7. Imperial Suite, Park Hyatt, Vendôme, Paris
Nightly Rate: $20,000
This pricey suite is located on the 5th floor and takes 200-sq.-meters. A 60-sq.-meter balcony is overlooking the Rue de la Paix, with an outstanding view of the Vendôme column. The Imperial Suite has high ceilings, a dining room, kitchenette, bar, and a mansard roof. It also includes in-suite spa with whirlpool bath, steam room shower and a built-in massage table. Also included are high-speed Internet access and a computer with flat screen monitor, multi-line telephones, and a separate work area to help you enjoy the work process.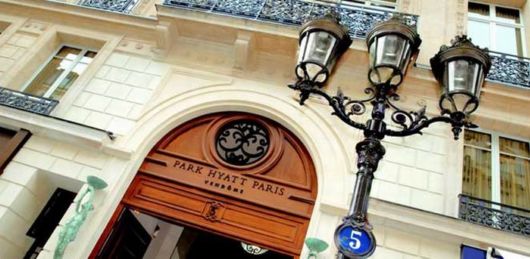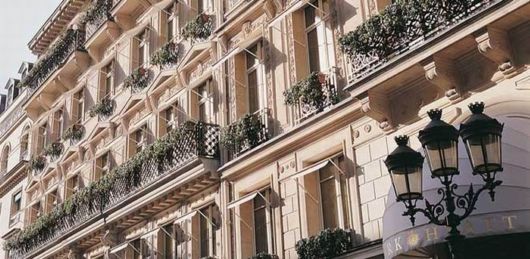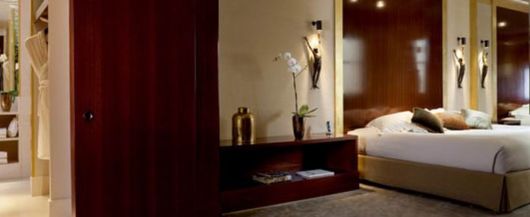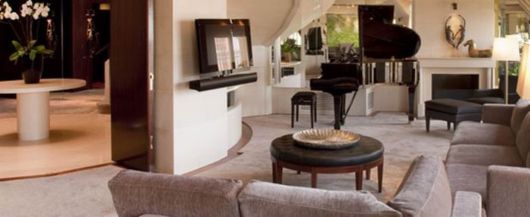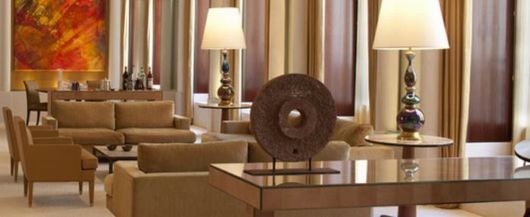 6. The Bridge Suite, The Atlantis, Bahamas
Nightly Rate: $22,000
The Bridge Suite is located on top of a bridge that connects the two Royal Towers buildings, so it overlooks the entire resort and marina. An 800 square foot balcony and 12-foot high ceilings throughout with full length windows allow you to enjoy a 360 view of the water, lagoons and pools in Paradise Island. We can make a guess that most of the price is paid for the location of the suite. Forbes reports the suite has hosted guests including Oprah, Michael Jackson, Celine Dion, and Bill Gates.
The suite has 10 rooms that are decorated in black, red and gold (including a 22-karat gold chandelier in the dining room). The living room is a 1,250-square- foot room with grand piano and twin entertainment centers. The master bedroom has a sitting area, his-and-hers closets so large that you can park your car there, and hand-painted linens. The kitchen also has its own entrance, so a permanent staff of seven, including a butler and a cook can access the rooms without bothering you.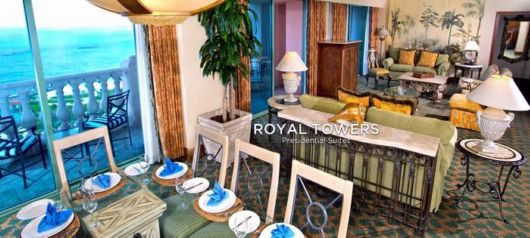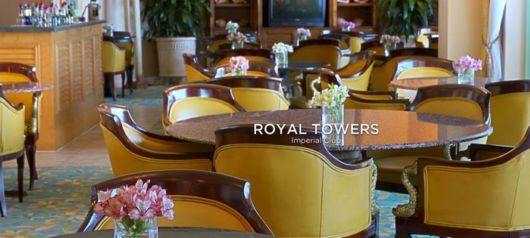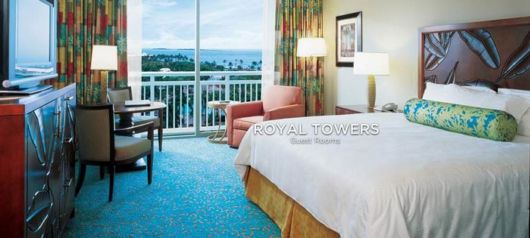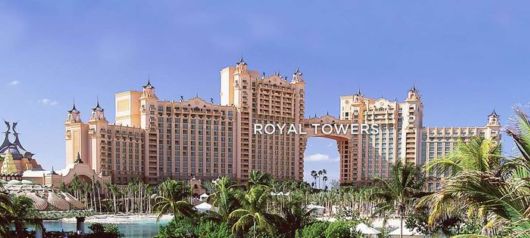 5. Presidential Suite, Ritz-Carlton, Tokyo
Nightly Rate: $25,000
The suite is located on the 53rd floor above Tokyo with spectacular views that include the Imperial Palace outer gardens and Roppongi Hills.
In the suite?s 3300 sq ft you get pure luxury with a stunning four poster bed in the master bedroom, personal concierge, connected living room/dining room, an oversized marble bathroom with Sony BRAVIA 20 inch flat screen television, and access to indoor pool and fitness studio.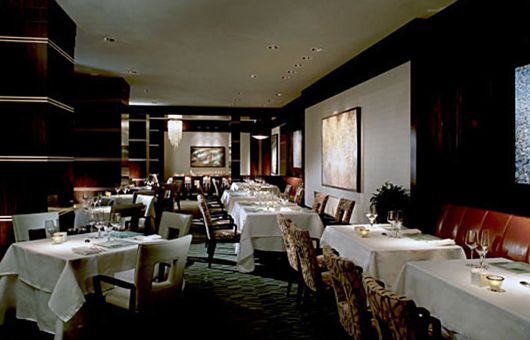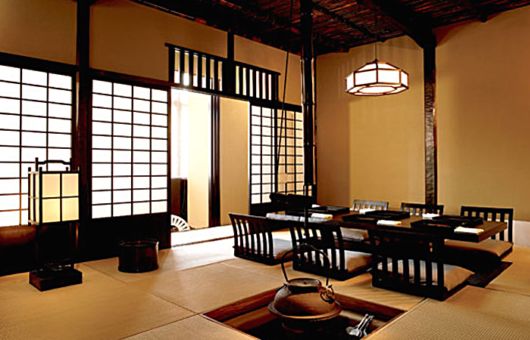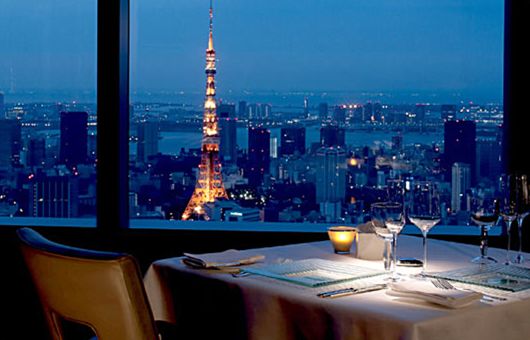 4. Villa La Capula Suite, Westin Excelsior, Rome
Nightly Rate: $29,000
The suite is located on the fifth and sixth floor underneath the cupola of the hotel which was made famous by Fellini?s movies. It covers 6,099 square feet and has an additional 1,808 square feet of balconies and terraces. While it only has two bedrooms, five more can be joined to it. The entire suite was just remodeled in 1998 for a cost of around $7 million. So now you will have all things Roman and excessive ? a cupola, a Pompeii-style Jacuzzi pool, frescoes (the painted horizons on the frescoes were designed to match perfectly with the real Roman one), stained glass windows, and almost 2,000 feet of balcony space including a sun deck overlooking the Via Veneto district.
The downstairs also has a private kitchen, and the dining room features an antique Murano glass chandelier, a private wine cabinet with over 150 wines to choose from and a study/library covered in hand-carved wood. And what really makes this suite over the top is a private cinema with Dolby surround sound.Now that?s living la dolce vita.





3. Ty Warner Penthouse, Four Seasons Hotel, New York
Nightly Rate: $34,000
The $50 million Ty Warner Penthouse at the Four Seasons in NY was designed by legendary architect I.M. Pei, Peter Marino and hotel owner Ty Warner.
The nine-room suite has walls inlaid with mother of pearl, gold and platinum-woven fabrics. The suite is located on the 52nd floor of New York?s tallest hotel with floor-to-ceiling bay windows offering a breathtaking 360 degree view of the City. If that is not relaxing enough you can enjoy a waterfall in the Zen Room, play the grand piano in the library or soak in a tub overlooking Central Park. Full spa treatments, a personal trainer and a 24/7 butler are all included, and if you still find a will to leave, you can choose to be chauffeured in a Rolls Royce or Maybach, and you?re always guaranteed a table at the hotel?s renowned L?Atelier de Joël Robuchon restaurant.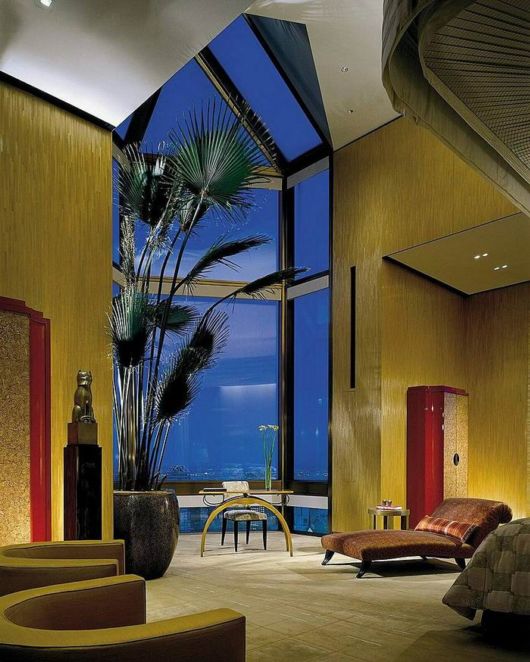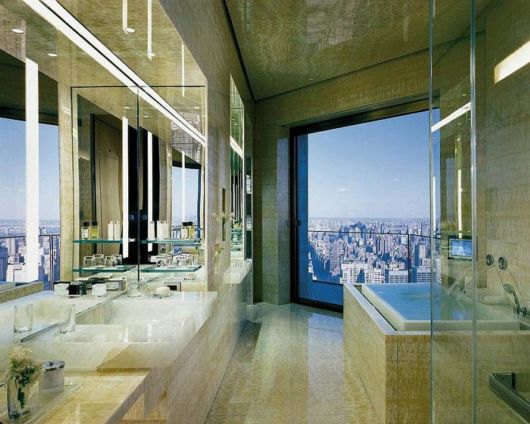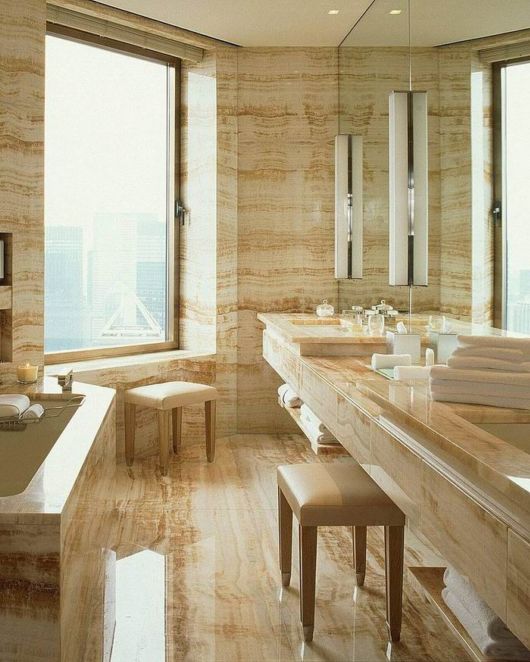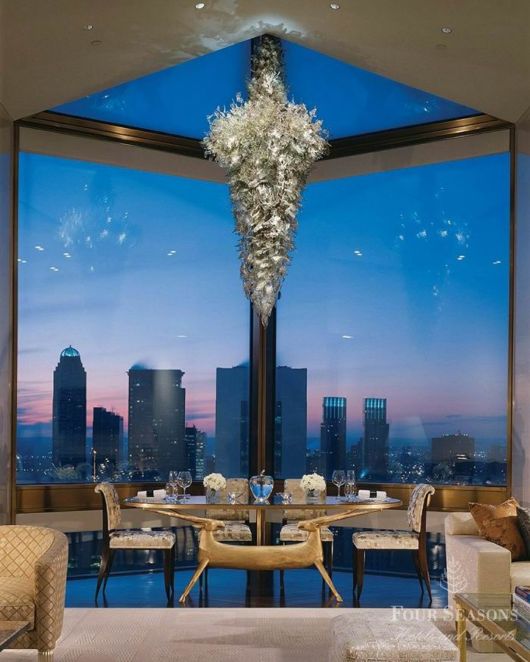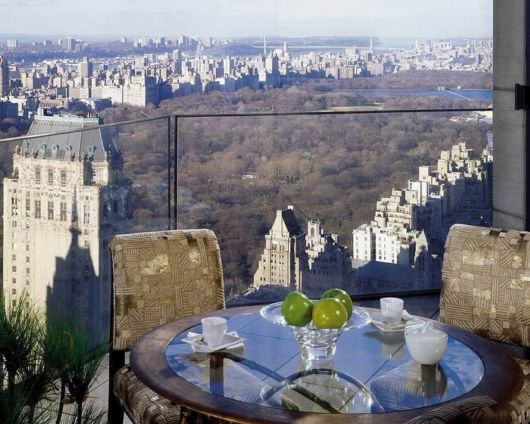 2. Hugh Hefner Sky Villa, Palms Casino Resort, Las Vegas
Nightly Rate: $40,000
If anyone knows how to vacation in Las Vegas, that will be Hugh Hefner. Even though he is known as a homebody he has spent a few nights away from the mansion at the Sky Villa. The suite itself was built to model the original playboy mansion; it also incorporates elements derived from a vintage Playboy magazine article about the ultimate bachelor pad. The suite cost roughly $10 million to build but the high-rollers can rent it for a small $40,000 a night. Everything screams S-E-X-Y at the Sky Villa. The two-story 9,000 square foot Villa includes a glass elevator, a rotating bed set beneath a mirrored ceiling, and a glass wall Jacuzzi that extends out over the hotel and offers amazing Strip views, around-the-clock butler service, massage and spa rooms, work-out room and poker table, fireplace, three bedrooms, and pop-up plasma TVs.Sorry, Bunnies not included.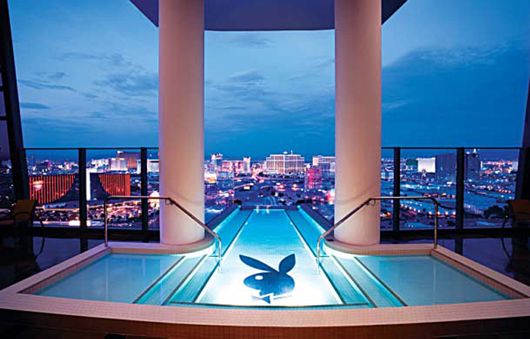 1. Royal Penthouse Suite, President Wilson Hotel, Geneva
Nightly Rate: $53,000
The Imperial Suite, which is actually an entire top floor of the hotel, is reached via a private elevator and has four bedrooms, six bathrooms with mosaic marble floor, a cocktail lounge and a terrace with a dramatic view through the bulletproof windows over the city, Lake Geneva and Mont Blanc ? all of which overlook Lake Geneva. The suite is decorated in a contemporary style, with marble and hardwood floors. The living room has a billiards table, a library and a cocktail lounge with a view of the water fountain, and can accommodate 40 people. The dining room seats 26 people around an oval mahogany table.
The hotel?s staff reassures guests that the security in the Imperial Suite is among the best in the world, ideal for celebrities or traveling heads of state who visit the United Nations headquarters next door at the Palais Wilson.