The first of its kind a luxury breathtaking underwater villas that lets you to sleep with the fishes in Dubai. Created by the Kleindienst Group, the three-level luxury boathouses, called the "Floating Seahorse", is the city's latest lavish and futuristic development. The villas are slated for completion in 2016 and the first tenants are expected to move in by 2017.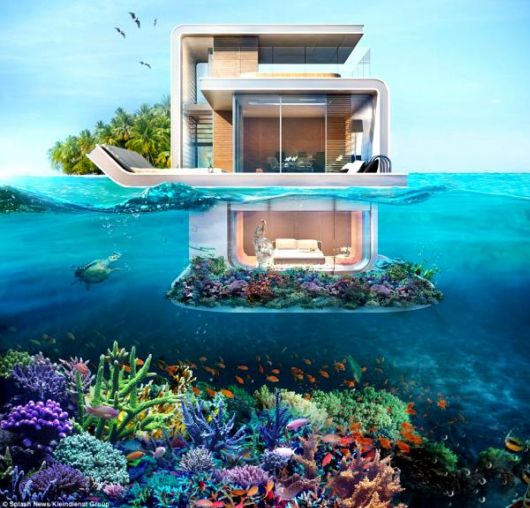 The Floating Seahorse will be uniquely fabricated using high quality marine approved materials and technology. Each 1,700-square-foot luxury retreat comprises three levels, two of which are above water and one located below. The middle floor includes a sun deck, indoor living space, kitchen, and dining room, while the topmost floor includes a second sun deck, glass-bottomed jacuzzi, and minibar. The master bedroom and bathroom are located on the submerged level and are surrounded by floor-to-ceiling windows for panoramic views of the Persian Gulf waters and coral reef.
There are plans to create an artificial coral reef beneath the luxury retreats. It will be a protected area in which seahorses can safely live and breed. The Seahorse homes are selling for 6.5 million AED ($1.8 million). Only 42 Floating Seahorses available in the world, out of which 35 have already been sold.