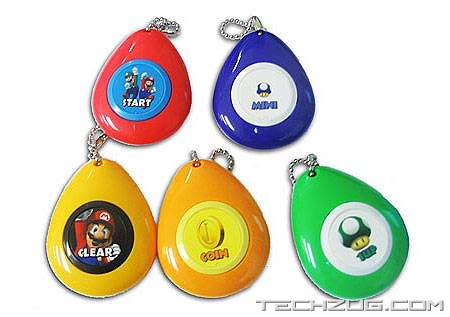 Everybody loves Mario – you can tell by the millions and millions of copies of games sold around the world where the rotund plumber and his brother starred. You know Princess Peach and the rest of the Mushroom Kingdom are in good hands whenever our moustached friends are around, which is why it gives us the extra sense of security in this day and age where terrorists abound to be able to hold a little bit of Mario hope in our hands with the Super Mario Sound Drop keychains.
ThinkGeek is offering these delectable items that are bound to melt the hearts of even the most indifferent person, featuring uniquely cute keychains that come with the extra bonus of playing back a sound from the best selling New Super Mario Brothers game which is a runaway hit on the Nintendo DS platform. All you need to do is press a button, and the keychain will play the sound corresponding to the picture shown on the button. There are a total of eight different designs to choose from, but unfortunately these are imported capsule toys from Japan, which means you might not necessarily get the character you want with each purchase.
In order to ensure that does not happen and leave you with regret of an incomplete collection, why not fork out $30 to purchase the entire set of 8? This is definitely the cheaper way of doing things, considering each individual keychain retails for $5. You had better hurry if you want one though, since they are available in limited quantities at the moment and will probably sell out faster than Mario gulps down a mushroom.