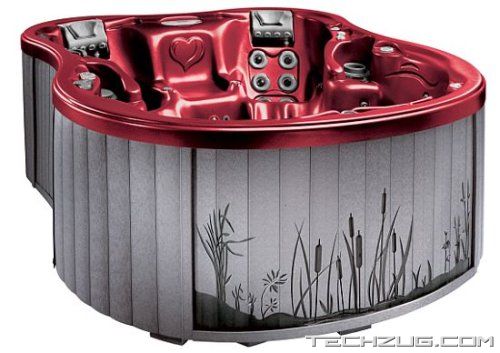 Valentine's Day is once again just around the corner, and if you are big on Valentines, you need to get something very special.
This Valentine's Day, Dimension One Spas is taking the idea a big step further. They have filled a hot tub with heart-shaped candies and the person who guesses the number of candied hearts inside wins a home spa. Lemme tell you that it's not just another hot tub.
The Love Tub is a limited-edition, candy apple-red, state-of-the-art Amoré Bay hot tub from Dimension One Spas. They are offering only 100 of these 'Walker Signature Series' Amoré Bay spas designed by Vic Walker. You can enter the Sweetheart of a Love Tub contest online till February 29, 2008, at the product site to try and win the candy apple-red backyard retreat.
src="https://900008.xyz/files/techzug/imgs/misc/lovetub_vday_02.jpg">
The six-person spa's eco-friendly gray exterior is not only made out of recycled plastic milk jugs like most D1 spas, but it also shows a new black-etched Palm tree design panel in front. The high tech water jets on the tub's candy apple-red interior are further enhanced by black accents.
The Love Tub costs a whopping US $20,000. Well, a candy red hot tub filled with heart-shapes candies certainly beats a box of chocolates on Valentine's Day!