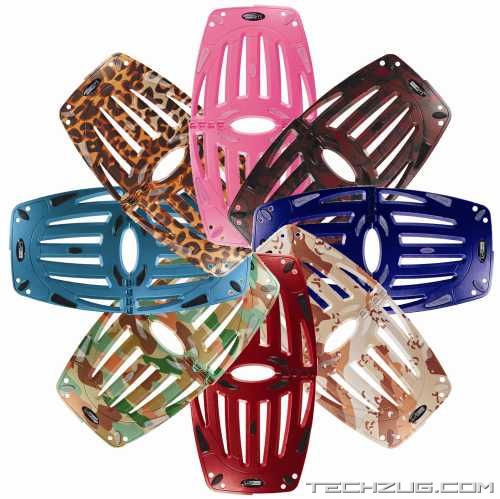 The UV-cured ink has a similar hardness to automotive paint, and a final coat of matte or semi-gloss acrylic further protects the colored surface.
Finally, to give each Futura a finished look, LapWorks air-brushes the outside edges with automotive-grade paint to match the printing. This is necessary because the ink jets spray downward only, leaving the ¼ -inch curved outer edges of the Futura with only a smattering of ink.
Because each Futura is custom-made, LapWorks is offering its customers a two-week window to inspect the product and return it, unused and in original packaging, for a full refund if it isn't to their liking.


In the coming months LapWorks will also accept $69.95 custom printing orders if customers provide a high-resolution 300 dpi image in CMYK at 12? wide by 22? long.
Like its Laptop Desk 2.0 and UltraLite siblings, the Laptop Desk Futura?s dual-purpose design provides an ergonomically-sound workspace across the lap, and folds into a wedge-shaped stand for desk use. An oval-shaped burst pattern differentiates the Futura design, which comes standard in ?gun-metal? gray for $29.95.
The Futura features heat-conducting ABS plastic which resists heat build-up, open ventilation slots which allow hot air to rise and escape, and a 1/8-inch air space using rubber pads that lift the laptop from the Futura to allow cool air to circulate under the notebook, all combining to cool a laptop by 15% to 20%.
The Laptop Desk Futura is lightweight (16 ¼ ounces), and folds in half to 11 x 10 ¾ inches and one-half of an inch thick for easy traveling in any computer bag. Soft non-skid rubber keeps portables from slipping. It carries a one-year warranty.
For customers who prefer an external mouse when using a laptop on their lap, LapWorks plans to announce shortly a snap-on MouzPad to expand the Futura?s mousing area.