Polaroid has unveiled a brand new mobile, pocket-sized printer that lets you print enjoyable snaps from any Bluetooth enabled Apple or Android gadgets instantly. The Polaroid Zip mobile printer, which uses the Zink ink-free printing technology found in its Socialmatic cameras, lets you print instantaneous 3 x 2-inch color photos when paired wirelessly with your smartphones via Bluetooth.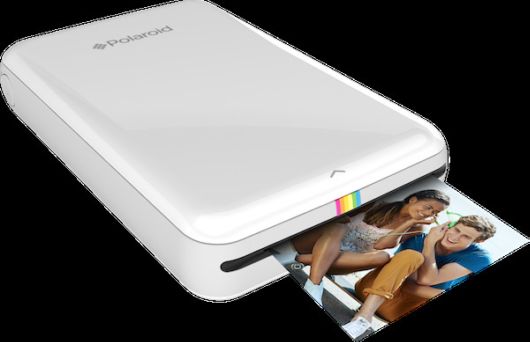 The Polaroid Zip mobile printer pairs wirelessly to any smartphone or tablet and using a dedicated mobile app available for both iOS or Android via Bluetooth 4.0 or NFC. Similar to the size of a smartphone, the Polaroid Zip mobile printer weighs just 186g (.41lbs) and can be taken anywhere. The device measures 2.91" x 4.72", just less than one inch thick and boasts a striking high-gloss finish augmented by the iconic Polaroid Color Spectrum logo. You can additionally edit your images by adding filters or create collages. You can also use the paint mode as well as the use of frames, stickers, stamps, and animations to make the photo stand out. A unique business card creator allows users to choose from several templates and add in their image and personal info.
The key to the ink-free system is the patented ZINK Paper®, an advanced composite material embedded with cyan, yellow and magenta dye crystals and with a protective polymer overcoat. Before printing, the dye crystals are colorless making ZINK Paper® look like regular white photo paper. The ZINK-enabled Printer uses heat to activate and colorize these crystals. The result is full-color, high quality, long-lasting and smudge-proof images without ink cartridges, ribbons or toner. the ZINK paper is adhesive backed and so the photo can be used as a sticker as well. The Polaroid Zip mobile printer includes an internal, rechargeable lithium-ion battery that's capable of printing up to 25 ZINK photos on a single charge. The Polaroid Zip mobile printer will be available this Spring for $129.99.