Those of us who are terrible at memorizing keyboard shortcuts, can now do it with ingenious wireless keyboard concept known as E Ink Keyboard. The keys alternate and provide shortcut hints depending on what software you're using. Depending on where you're from, your keyboards will be sold to you either in English or feature characters from your native language. This incredibly Easy E-Ink Keyboard changes dynamically when switching between applications or languages.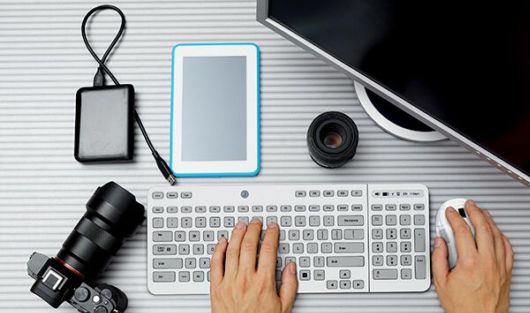 E Ink Keyboard is a wireless keyboard with virtual assistant integrated, Superior durability and comfortable typing on quiet keys with bold, easy-to-read characters. As the name suggests, this is a keyboard that uses an e-ink screen behind each individual key. It also supports a 3.5-inch multi-touch touchpad for easier web browsing and a display where users can see the time, the language, battery life, and so on.
It also allows users to detach or attach certain accessories – trackpad, number keys, Digital drawing pads. Jaasta's voice-activated virtual assistant function responds to clear voice commands like save, delete, send and helps search for files in computers. It also has the Capability to control your TV-connected laptop from a 33 feet/10 meter wireless range. The Jaasta E Ink Keyboard will soon be available through a crowdfunding campaign and is expected to sell for around $300.