The Timex Nail Watch: Get the Time on Your nails
We have seen many different types of futuristic watches with strange shapes and design but none so unique as this. Now lets welcome the Nail watch, that can be worn on the thumb. You may have never seen a watch that can be worn on the thumb but times are going to change thanks to Timex. Timex, in collaboration with Core77, held a global design competition called 2154: the future of time design. So what we are seeing here is the TX54 concept which was a runner up there.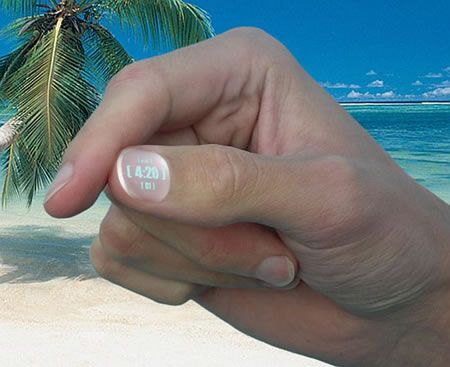 Thanks to a translucent body, the design blends seamlessly with the nail while a selection of text color options and a glow feature activating on command make it supremely functional as well. Press the end of your thumbnail, and the watch will light up for you. A perfect blend of appearance, user interface, and technology, the nail watch passes most standards of modern design with flying colors thanks to its functional and minimalist appeal. The watch looks stylish and chic and has a touch of Geeky style as well. The downside of this watch is that it is disposable. So with so many stylish watched being available now, it will be hard for it to survive in the market. Though it is quite innovative with a minimalist design, but it won't last long on your finger.
No details about the availability or the price of this watch has been released by Timex. But since it is tiny and disposable, I don't expect the price to be high.