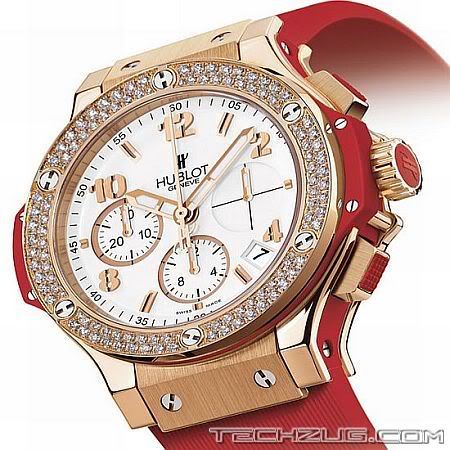 The season of love is upon us and the onus now weighs heavily upon all you guys out there to find the most precious gift you can get for your lady love.
And what better than a diamond encrusted classic timepiece with a passionate red rubber strap! This delicate luxury watch from Hublot features a red and gold rim which is set with 114 round diamonds weighing approximately 1.22k or 48 baguette-diamonds weighing 2.28k.
The stunning watch face is covwaered with sapphire crystal and 6 H-shaped titanium screws sparkle on the side.
The watch also features standard Arabic hour markers and a Caliber 2894 chronograph. If this doesn?t have your woman all wrapped up in love for you, trust me, nothing else will!