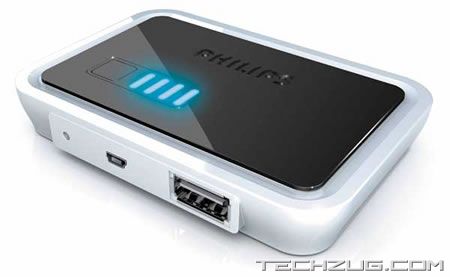 Last week you have seen the Nokia PowerPack and now Philips released their Power2Charge and Power2Go in their new Power4Life range. Both appear in the IFA 2007 in Berlin.
Power2Charge is a universal adapter solution that charges all your portable electronic devices and that removes the need to carry several chargers at once. Philips offers three universal USB chargers and two universal USB car chargers to give maximum convenience while at the office, at home or on-the-move. While the Power2Go is a portable power storage that offers up to 60 hours of back-up power from a single charge, allowing portable electronic devices to be powered-up from anywhere in the world without the need of a power outlet. There is LED light indicator to tell you how much power is left. Philip?s Power4Life range will be available in Europe end of the year on December.
Power2Charge is basically a universal charger to juice up most of your portable electronic devices and the Power2Go is a portable power pack, power that you can bring anywhere to charge your portable electronic devices.