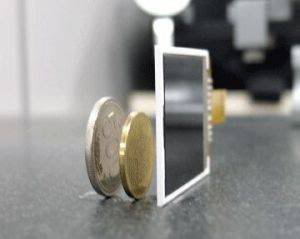 Samsung may try to unofficially claim the throne as the king of slim, but their fellow Korean companies aren't going to give up without a fight. One of their biggest competitors, in the cell phone market anyways, is LG Electronics, and it seems that LG wants a big piece of the ultra-thin pie for themselves. The Korean manufacturer has just unveiled a new TFT LCD display that is a mere 1.48mm thick, or about 0.058-inches for those of you who aren't metrically inclined.
Showcased in both 2.0 and 2.2-inch sizes, this new display will handle QVGA resolutions without a hitch, and they're proposing various applications. I'm sure you can guess a few of these, like portable gaming machines, personal digital assistants (PDAs), and multimedia players. If integrated into a new batch of mobile phones, along with some other slim stuff, Samsung may have quite a battle for themselves when it comes to maintaining that they also have the "world's thinnest".
No word on when the TFT LCD's will be available, and whether they plan on selling the technology for other companies' uses.
.